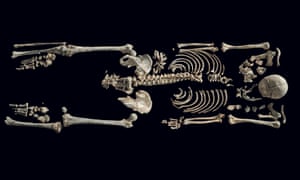 They are the unquiet dead. Laid out in rows inside a former industrial building on the edge of the Bosnian town of Sanski Most. Some of the skeletons are almost complete, others just a pelvic bone and some assorted ribs, arranged as though to await the arrival of more.
This place was used to process wood before Bosnia's war of the early 1990s, and now it processes – it endeavours to assemble – the dead. The remains are laid out on raised trays, and at the foot of each lies possessions found with the body when it was exhumed, invariably from a mass grave. So to walk through this hall of death is also to walk through these people's lives and last moments. A pair of trainers here, a checked shirt there, a watch or wallet. What made this person choose a yellow sweater rather than another on a market rail, and chance to be wearing it when taken out to be murdered? Why striped socks beneath this half-assembly of bones, plain ones to accompany the next? Who were these people?
In this building, run by the Krajina Identification Project, there is diligent purpose. These dead people had been missing for 24 years, along with tens of thousands of others, while their families – survivors of the hurricane of violencethat blew through this corner of Europe – searched, wondered, feared the worst.
This facility is one in a chain that seeks to answer that question, the work of which is the most remarkable entwinement of science, human rights and justice in the world today. The task is to locate and exhume the 40,000 people who went missing after the western Balkan wars – the worst carnage to blight Europe since the Third Reich – then to assemble their remains insofar as they can be found, identify them, give them names, and return these dead back to the living for burial. It is scientific work at its most committed and advanced, helping to meet humankind's most primal need: to bury or in some way ritualise the remains of our dead.
READ MORE HERE:
https://www.theguardian.com/world/2016/dec/06/bringing-up-the-bodies-bosnia