July 17, 2016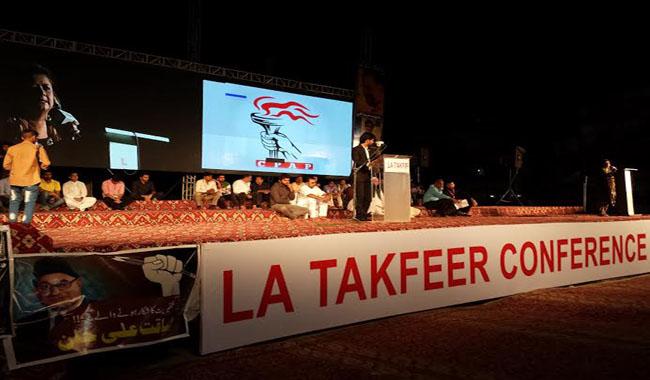 KARACHI: In Pakistan, calling another Muslim a 'Kafir' (an infidel) sells really well and is as easy as buying an over-the-counter drug. Not only is it a lucrative affair, but ensures power and dominance too, so the merciless killing of hundreds as a consequence of this dirty business, matters little to the vendors as it lands them from bicycles to SUVs.
Now that there is a hardly any Muslim left in this country with a 96 percent Muslim population that has not been labelled a 'Kafir' with several Fatwas (decrees) issued by sects against each other declaring the followers of others infidels, those who realise that this unbridled sectarian hate-mongering will push Pakistan to the point where Muslims will be at each other's throats and many more lives will be lost in mindless bloodshed, organised and participated in the La Takfeer (No to Declaring other Muslims Infidels) Conference at Amroha Ground in Ancholi on Saturday to take the beast head on.
Focusing particularly on the sectarian murder of rights activist Khurram Zaki in Karachi in May this year, the participants of the conference stressed on the urgency to bring 'Kafir-calling' to a halt so more loss of lives could be prevented.
Prof Dr Muhammad Shakeel Auj and Dr Syed Waheed-ur-Rahman, both University of Karachi professors who were murdered apparently on sectarian grounds last year in the city, too were remembered.
Largely unchecked by the State, sectarian hate-mongering has had terrible effects, plummeting the country into sectarian strife. Hundreds have been killed on sectarian grounds across the country, mostly members of the Shia community in Karachi, Shia Hazaras in Balochistan and members of the Ahmadiyya community.
Senior Pakistan People's Party leader, Senator Taj Haider said it was imperative to deal with the menace of sectarian hatred and thwart the nefarious designs of hate-mongers. "The flames of sectarian hatred must be doused before they engulf the entire country," he added.
Khurram Ali of the National Students Federation, Pakistan noted that it was essential to separate religion from the State. Giving a background of the creation of Taliban and other banned outfits, he spoke about how the ideology of Takfeer grew in strength in recent decades.
It was in 1974 with the second amendment to the Constitution that declaring one a 'Kafir' became State business, despite the country's founder's clear instructions that one's faith has nothing to do with the business of the State, marking the beginning of the persecution and apartheid of the Ahmadiyya community. But it did not end there.
In fact, a precedent had been set and other sects were given the impetus to go for a repeat against each other.
Rights activist Jibran Nasir said nobody had the right to kill another human being over their religious beliefs. "The rivalry between sects needs to stop. We must be neutral when it comes to this matter. All sects involved in hate-mongering should put their own houses in order," he added.
Though the government has banned several religious outfits involved in hate-mongering and violence, many of them are proscribed only on paper and operating with impunity – some even participating in elections with new names and others running charity wings as a cover for their subversive activities.
The State was criticised for its selective action against banned outfits, while the Pakistani Taliban are hunted down by the law-enforcement agencies, others are allowed to stage rallies and run offices despite ample evidence of their involvement in inciting hatred against other sects.
Many individuals on the Fourth Schedule, the terror watch list, are freely operating and even going on trips abroad.
Muttahida Qaumi Movement leader MNA Ali Raza Abidi said too much blood had been spilled over 'Kafir-calling' and the nation needed to unite and take a stand against hate-mongers who were spewing venom in their sermons and speeches.
The speeches delivered at the conference all came down to one question: Who can judge as to who is a Muslim and who is not? As one of the participants put it, "I am a Muslim, and nobody can declare that I am not one."
SOURCE:   https://www.thenews.com.pk/print/135409-Dirty-business-of-Kafir-calling-must-be-stopped