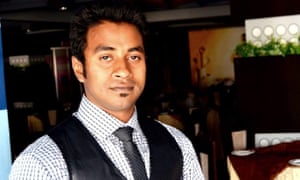 Hundreds of protesters have taken to the streets of Dhaka to demand the capture and punishment of those responsible for the murder of a law student who criticised Islamism on his Facebook page.
About 350 activists from the secular campaigning network Ganajagaran Mancha took part in the demonstration on Thursday after the killing of Nazimuddin Samad in the Bangladeshi capital on Wednesday night.
Samad, 28, had been on a hit list of 84 atheist bloggers that a group of radical Islamists drew up and sent to the Bangladesh interior ministry. His murder was the latest in a series of killings of secular activists and bloggers in the country.
Syed Nurul Islam, the deputy commissioner of the Dhaka Metropolitan police, told Agence France-Presse: "At least four assailants hacked Nazimuddin Samad's head with a machete on Wednesday night. As he fell, one of them shot him with a pistol from close range. He died on the spot.
"It is a case of targeted killing. But no group has claimed responsibility." He said police were looking into whether Samad was murdered for his writing.
The Dhaka Tribune said the assailants shouted Allahu Akbar (God is greatest) as they attacked Samad on a busy road near Jagannath University, where he was a law student.
On Thursday, the protesters urged the Bangladeshi authorities to take the killing seriously, accusing them of having fostered a culture of impunity in the past.
Last year, suspected militants hacked to death at least four atheist bloggers and a secular publisher in one of a series of targeted killings in the Muslim-majority country.
Police arrested members of a banned group called Ansarullah Bangla Team over those murders, but none has yet been prosecuted.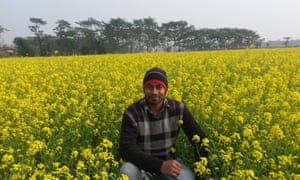 Maruf Rosul, one of the Ganajagaran Mancha activists, told the Guardian: "The government is creating impunity to all the offences by not bringing the perpetrators to book.
"Instead of pointing blame at different outfits, the government should identify the perpetrators and bring them to justice."