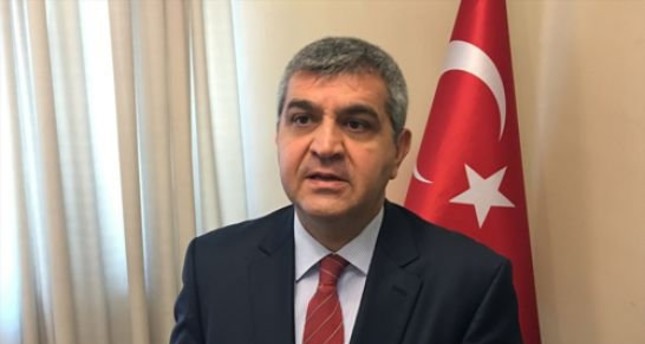 Kaymakcı has said that the period ahead provides an ample amount of opportunities to reinvigorate Turkish-EU relations.
Faruk Kaymakcı, the Turkish permanent representative to the EU, who will be holding high-level meetings with EU officials next week together with Turkey's EU minister, Ömer Çelik, and Foreign Minister Mevlüt Çavuşoğlu, wrote the following statement, explaining the crucial need for deepened dialogue between the two sides. "Recent surveys conducted in Turkey show that 75.5 percent of Turks still desire and support their country's EU membership. However, when asked whether Turkey would be allowed to, or can become a member of the EU, only approximately 36 percent respond positively.
"Although the vast majority of Turkish people want EU membership, the lack of belief that this will ever happen negatively affects the overall motivation to pursue this strategic goal. The main reason behind this lately has to do with the EU's dubious stance or lack of 'anchoring' toward Turkey's accession. "Enlargement has been one of the EU's most successful external policy tools since its inception. It requires a bold vision and leadership, as was the case with previous waves of enlargement. In this regard, it is to be noted that European history remembers and rewards only those who display leadership and vision and make the most difficult possible, like late [German] Chancellor Helmut Kohl, who enabled the eastern enlargement in 2004. Enlargement, a European tool, must not be held hostage by short-sighted national interests or populist tendencies. The EU lost its anchoring role with Turkey when Greek Cypriots and [then French President Nicolas] Sarkozy were allowed to abuse their EU membership and pursue a national agenda rather than a European one, to block 18 out of 35 chapters from 2006 to 2009.
"Turkey, officially a candidate since 1999, deems accession negotiations as the backbone of its relations with the EU. The negotiations, though defined as open-ended, ideally provide a structured dialogue that enables the EU to engage in a constructive and anchoring manner. For Turkey, it is the driving force for reforms and further alignment with the EU."
Turkey's accession: Liability or asset?
Opponents of Turkey's membership in the EU have argued that Turkey is "too big, too poor and too different" to be accepted as a member. One could argue otherwise. Bigness in size, population and global weight would be an asset for the EU rather than a liability in the face of an ageing and weakening West and against the rise of the East. Turkey's young and dynamic population could be an antidote to the ageing EU population in this regard. In light of the recent economic forecasts, Turkey, currently the sixth biggest economy in Europe and 18th largest in the world, is expected to become the 12th largest economy by 2030, outperforming Italy and South Korea. Turkey is not too poor anymore and is better than some of the member states in terms of meeting the Maastricht Criteria. Finally, that Turkey is a predominantly Muslim country with a secular state would contribute to the cultural diversity and harmony in the EU, which in turn could help alleviate the ominous rise of Islamophobia, xenophobia and radicalization across the EU. Moreover, a secular, Muslim member country could buttress the integration of Muslim Europeans into their respective societies as well as increase the EU's outreach capacity in the Muslim world and Asia.
SOURCE:   https://www.dailysabah.com/d/politics/2017/07/13/prospect-of-turkish-accession-to-eu-more-relevant-than-ever