Source: The Guardian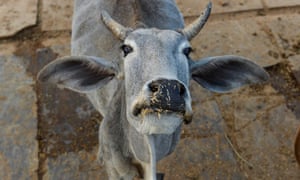 India's prime minister, Narendra Modi, has condemned a rise in deadly mob attacks on cattle traders, beef-eaters and dairy farmers, saying killing people in the name of protecting cows is unacceptable.
Most of the attacks waged by so-called cow vigilantes from fringe Hindu groups have targeted Muslims. Cows are considered sacred by many members of India's Hindu majority, and slaughtering cows or eating beef is illegal or restricted across much of the country.
Modi's comments in the city of Ahmedabad, in his home state of Gujarat, followed protests in several cities on Wednesday night against recent violence targeting Muslims. Thousands of people carrying placards reading "Not in my name" sang songs and lit candles in New Delhi. Hundreds including Bollywood actors rallied in the pouring rain in Mumbai.