Source: The Guardian
By Michael Safi in Delhi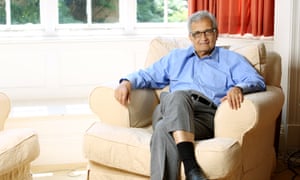 India's film censors have ordered that a documentary about the economist and Nobel laureate Amartya Sen be altered to remove words including "Hindu" "India" and "cow", the director has said.
Suman Ghosh said he was told by censor board officials on Monday that his one-hour documentary about Sen, a Harvard professor and essayist, could be released only if certain words were bleeped out.
Those words reportedly included "cow", "Hindu India", "Hindutva" – a reference to the religious nationalist ideology of India's ruling party – and "Gujarat", the home state of the country's prime minister, Narendra Modi.
"I was quite shaken," Ghosh told NDTV of the Central Board of Film Certification (CBFC) decision, against which he said he would be appealing. "I was shocked but I thought, I have to argue."