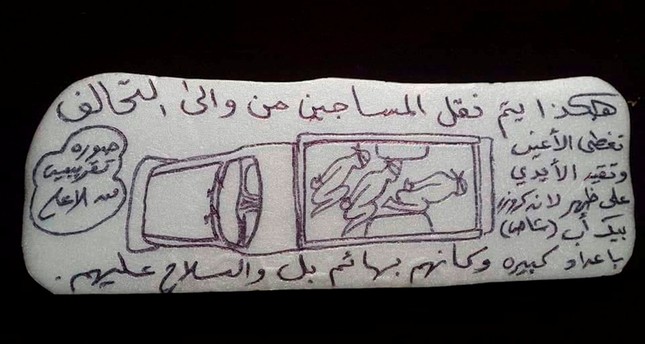 This undated photo obtained by The Associated Press shows a drawing of prisoners being transported in a pickup truck to an Emirati-run prison in Yemen. (AP Photo)
The torturers followed a schedule.
Beatings on Saturdays, torture on Sundays, and Monday was a break. The next three days were the same routine. On Fridays, it was time for solitary confinement.
From inside a Yemeni prison controlled by the United Arab Emirates — a top U.S. ally — a Yemeni detainee held without charges chronicled torture and sexual abuses through drawings. Smuggled to The Associated Press from the Beir Ahmed prison in the southern city of Aden, the drawings offer a grim glimpse into a hidden world of flagrant human rights abuses by UAE officers acting with impunity.
Sexual violence is a primary tool aimed at brutalizing the detainees and extracting "confessions," the artist and six other detainees told the AP.
The drawings — made on plastic plates — show a man hanging naked from chains while he is being subjected to electric shocks, another inmate on the floor surrounded by snarling dogs as several people kick him, and graphic depictions of anal rape.
"The worst thing about it is that I wish for death every day and I can't find it," the artist said, summing up nearly two years in detention that started last year after he spoke against the Emiratis in public.
The UAE's secret prisons and widespread torture were exposed by an AP investigation last June. The AP has since identified at least five prisons where security forces use sexual torture to brutalize and break inmate
more:
https://www.dailysabah.com/mideast/2018/06/21/drawings-from-prisons-in-yemen-show-routine-torture-by-us-ally-uae