Jakarta | Fri, June 8, 2018 |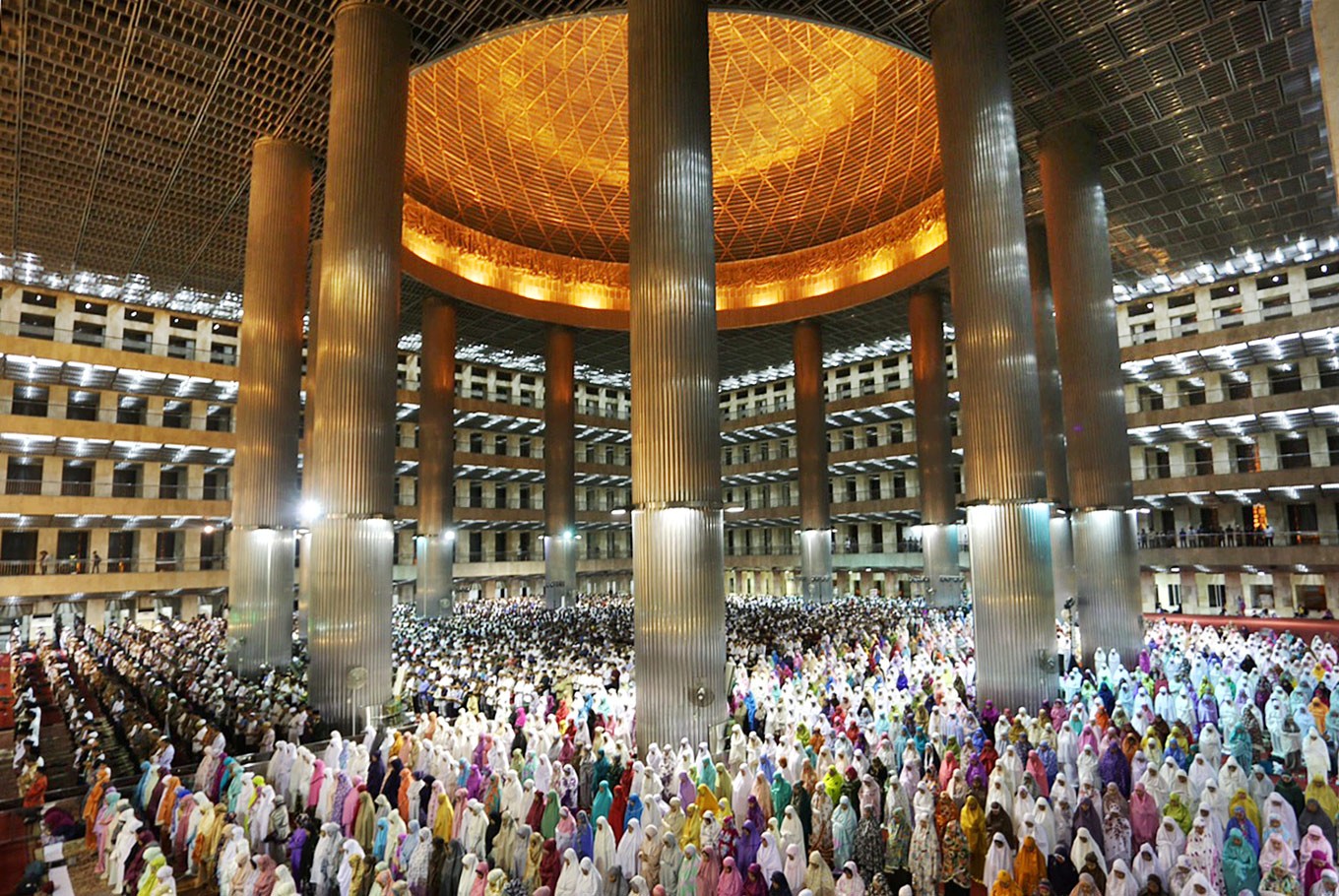 First prayer: Muslims perform tarawih (evening Ramadhan prayers) at Istiqlal Mosque in Jakarta on Wednesday, marking the beginning of the fasting month. (JP/Wendra Ajistyatama)
After the multiple terror attacks in Surabaya, East Java, some Muslims claimed they were discriminated against because of their religion. In Semarang, the police forced an Islamic boarding school student to reveal the inside of his bag and cardboard box. Meanwhile, a 14-year-old female student wearing a face veil was reportedly forced to step down from a bus because of other passengers' suspicion.
This perceived discrimination led a few Muslims to emulate a social experiment previously held in Europe and Canada. A bearded man and women with face veils stood at a shopping center in South Jakarta carrying a sign asking for a hug from passers-by who felt safe in their presence despite their appearance.
Soon after the success of this campaign, more free-hug experiments were held in other places. Although these experiments gained public attention, is it appropriate for Muslims to focus on and highlight their experience when the attention should be given to those who need it the most — the religious minorities?
In the United Kingdom, Sweden and Canada, the same social experiments were carried out by Muslims and they received a similar warm response. However, the experiences of Muslims in these countries are completely different from mainstream Indonesian Muslims'; they are vulnerable groups that consistently experience Islamophobia. Last year, according to the Independent, hate crimes directed at mosques reached 110 in the UK alone, including physical assaults and arson.
Meanwhile, in Indonesia, most Muslims often enjoy expressing their religious beliefs while dismissing voices of other religious groups. During the past gubernatorial election in Jakarta, many clerics freely said Muslims should only choose leaders who are Muslims. The use of the term kafir (infidel) has been defended many times by Muslims, ignoring the discomfort it causes to non-Muslims.
Furthermore, religious violence in Indonesia is often directed at religious minorities. The three suicide bombs in Surabaya targeted churches, killing those who came to worship. Mainstream Indonesian Muslims consider Shiites and the Ahmadiyah non-Muslims and they have also experienced intense discrimination. Recently, a mob in East Lombok attacked houses of the Ahmadiyah community, forcing seven families to find shelter at a police station. These are just a few of many upsetting religion-based violence in Indonesia.
Different from mainstream Indonesian Muslims, Muslim minorities in the West have built an alliance with other religious and non-religious groups. They have immensely benefited from "intersectionality", a framework coined by Kimberlé Crenshaw that is used to analyze the relationship between identity and power. It is an effective tool to understand how vulnerable groups experience different forms of oppression due to the intersection of racism, sexism, class oppression, religious discrimination and others.
Crenshaw wrote in the Washington Post that although the term was initially articulated on behalf of black women, it has unveiled the invisibility of many constituents within social groups that fail to represent them despite claiming them as members.
African-American Muslims in the Muslim community, queer Muslims in the lesbian, gay, bisexual and transgender (LGBT) movement and Muslim women in the feminist movement have learned intersectionality to understand their own experiences and help them fight for visibility.
Linda Sarsour, an American-Muslim woman who has gained international recognition within the global feminist movement after co-chairing the Women's March in the United States, pointed out that oppressed groups need the movement that is intersectional because people cannot fight one form of oppression while ignoring the others.
When organizing the Women's March, she invited active participation by other vulnerable groups, such as Native American women, Mexican women, undocumented women and trans women of color. Linda Sarsour has helped American Muslims to take part in the intersectional movement that unifies Muslims with other vulnerable groups.
On the other hand, mainstream Muslims in Indonesia use their religious identity to identify solely with other Muslim groups locally and globally. They imagine Muslims everywhere share the same experience and belief system.
The presence of Palestinian flags in Muslims' marches in Indonesia signifies how they identify with the oppression experienced by Muslims on the other side of the world. This may seem harmless, even noble. However, Muslims' narratives as vulnerable groups overseas are often exploited to shape the perception that all Muslims are victims of global oppression.
Combined with Islamic populism, the victimhood leads many Indonesian Muslims to falsely believe that they bear greater agony compared to any other groups, legitimizing oppression against and ignorance of the suffering of religious minorities in Indonesia itself. This may explain why Muslim organizers thought it was appropriate to conduct the free-hug experiments without really addressing the terror attacks against religious minorities.
When talking about Israeli-Palestinian conflict, it is important to recognize those directly affected. Linda Sarsour's parents came from Palestine and she has relentlessly spoken up about the Palestinian struggle. However, when a Jewish cemetery was vandalized by anti-Semites in the US, she also expressed her support. She raised US$125,000 to repair the damages and promised to give any remaining funds to Jewish community centers.
When black churches became the target of arson attacks, Sarsour also raised more than $100,000 to help them out.
As quoted by Tamika Mallory, a Black Lives Matter advocate, in the New York Times, Sarsour told members of other minority groups, "I'm gonna help y'all get your people straight and I expect you to come help me get mine straight."
Muslim minorities in the West are vulnerable groups and they have built an alliance with others so they can stand together when facing oppression perpetrated by those in power. Meanwhile, mainstream Indonesian Muslims are not a vulnerable group. Most Indonesians are Muslims; the government is dominated by Muslims; all of Indonesia's presidents have all been Muslims and Muslims dominate Indonesia's social and political scene.
Therefore, our experience as the majority is completely different from Muslim minorities. We do not experience religion-based oppression; religious minorities in Indonesia do.
We, Indonesian Muslims can still show others that we are peaceful, but putting ourselves in the spotlight while ignoring the oppression that is happening to vulnerable groups only shows self-importance and arrogance. Instead, we must provide to religious minorities in our country what we want for Muslim minorities abroad: support, safety and respect. We have to guarantee that they have religious freedom as much as we have, constantly ensuring that their freedom remains intact and jumping in to help fix it when it is disrupted.
***
The writer is a tuition school teacher and owner.
Disclaimer: The opinions expressed in this article are those of the author and do not reflect the official stance of The Jakarta Post.
source:
http://www.thejakartapost.com/academia/2018/06/08/the-problem-with-muslims-free-hug-experiments.html