Source: Carnegie Mellon University
The Technology May Offer Minimally Invasive Treatment for Genetic Disorders of the Blood
By Jocelyn Duffy / 412-268-9982 / jhduffy@andrew.cmu.edu

A next-generation gene-editing system developed by Carnegie Mellon University and Yale University scientists has cured a genetic blood disorder in living mice using a simple IV treatment. Unlike the popular CRISPR gene-editing technique, the new technology can be administered to living animals and significantly decreases unwanted, off-target gene mutations. The findings, reported in Nature Communications, offer a new therapeutic approach to treat genetic diseases of the blood like beta thalassemia and sickle cell disease by targeting faulty genes in hematopoietic stem cells.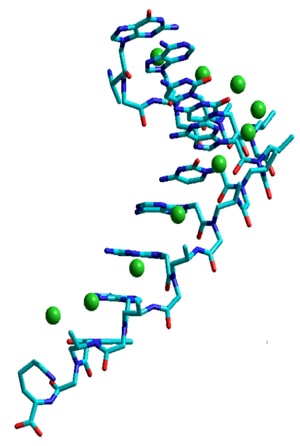 The system relies on peptide nucleic acid (PNA) molecules.
The novel system relies on state-of-the-art peptide nucleic acid (PNA) molecules, a synthetic nucleotide technology that has been pioneered at Carnegie Mellon's Center for Nucleic Acids Science and Technology(CNAST).
"We have developed a system that uses FDA-approved nanoparticles to deliver our PNA molecule along with a donor DNA to repair a malfunctioning gene in living mice. This has not been achieved with CRISPR," said Danith Ly, professor of chemistry in Carnegie Mellon's Mellon College of Science and an expert in PNA chemistry.