DAILY SABAH WITH AFP
BERLIN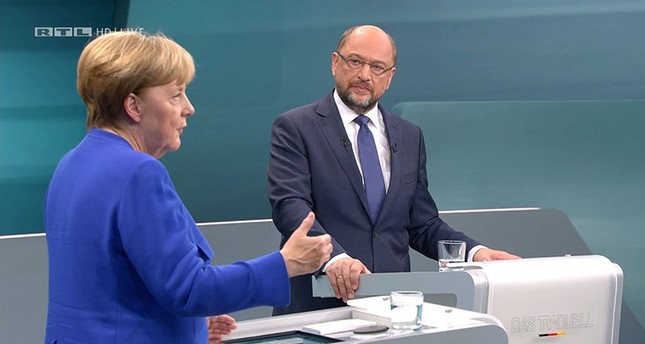 RTL Handout Photo via AFP
German Chancellor Angela Merkel said Sunday that she would ask the European Union to call off membership talks with Turkey, amid escalating tensions between Berlin and Ankara.
"I don't see them ever joining and I had never believed that it would happen," she said during a televised debate with Martin Schulz, her Social Democratic rival in elections later this month.
"The fact is clear that Turkey should not become a member of the EU," Merkel said after Schulz said he would stop Turkey's bid to join the EU if he was elected chancellor.
"Apart from this, I'll speak to my colleagues to see if we can reach a joint position on this so that we can end these accession talks," Merkel added.
Relations between Turkey and Germany, home to three million ethnic Turks, have been badly strained, particularly since the failed coup attempt a year ago against Turkey's democratically elected government by the Gülenist Terror Group (FETÖ). Turkey accuses Germany of harboring high-ranking FETÖ figures and soldiers linked to the coup attempt, in addition to activities of PKK and DHKP-C terrorist groups in Germany.
President Recep Tayyip Erdoğan has repeatedly said that more than 4,000 files regarding terrorism suspects were sent to Germany, but that no step have been taken to finish examining the files and deporting the suspects to Turkey.
read more HERE:   https://www.dailysabah.com/europe/2017/09/03/merkel-says-will-ask-to-end-turkeys-eu-membership-talks