DAILY SABAH WITH AGENCIES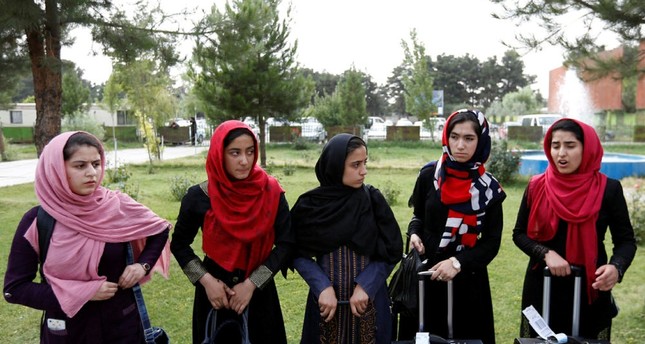 Members of Afghan robotics girls team arrive to receive their visas from the U.S. embassy in Kabul, Afghanistan July 13, 2017. (REUTERS Photo)
Afghanistan's all girls team who was twice denied U.S. visas to compete in an international robotics competition in Washington D.C. finally got their visas on Thursday after the Trump administration made a U-turn.
The girls will receive their visas after being told President Donald Trump personally intervened to reverse a decision by the U.S. State Department, says team manager Alireza Mehraban.
Mehraban says: "It's a happy moment for our team."
"We were disappointed, and we were feeling bad, but now we are very happy that they have given us a chance to go," 14-year-old Fatemah Qaderyan said as she and five teammates arrived in the Afghan capital Kabul.
The reversal reportedly came at the request of Trump, who has been embroiled in controversy over his efforts to restrict immigration from several Muslim-majority countries.
Afghanistan itself is not on the list, and Team Afghanistan's robot had already been allowed entry to the United States.
more:   https://www.dailysabah.com/americas/2017/07/13/all-girl-afghan-robotics-team-receives-visa-after-us-makes-u-turn