Source: The Guardian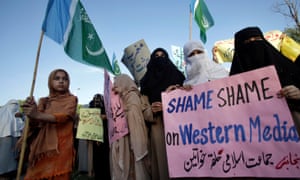 A Pakistani man has been sentenced to death for committing blasphemy on Facebook, the first conviction on charges arising from social media.
Judge Shabbir Ahmad Awan handed down the verdict in Bahawalpur, around 600km (372 miles) south of capital Islamabad, finding Taimoor Raza guilty of insulting the prophet Mohammed, prosecutor Shafiq Qureshi said.
Raza had a Facebook argument about Islam with someone who turned out to be a counter-terrorism department official, defence lawyer Rana Fida Hussain said.
The official brought charges against Raza based on the comments made on the social networking site.