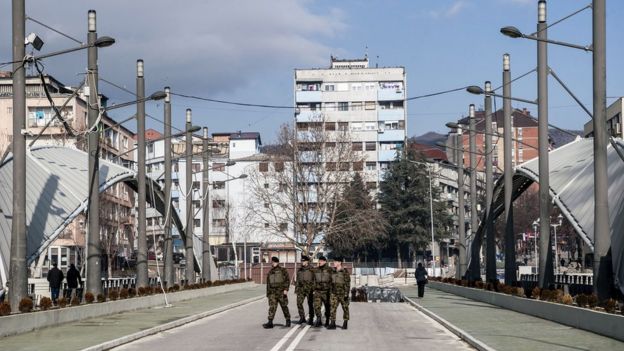 A historic moment or a proposal that would mean war? When it comes to Kosovo's putative territory swap with Serbia, it depends who you ask.
Speculation abounds that the two parties could make the concept official as early as Friday, when their presidents meet for scheduled talks in Brussels.
The idea seems simple.
The Presevo Valley in southern Serbia, where the population is mostly ethnic Albanian, would join Kosovo.
In return, Serbia would re-establish full control over the majority ethnic-Serb area of Kosovo to the north of the River Ibar, which runs through the heart of Mitrovica.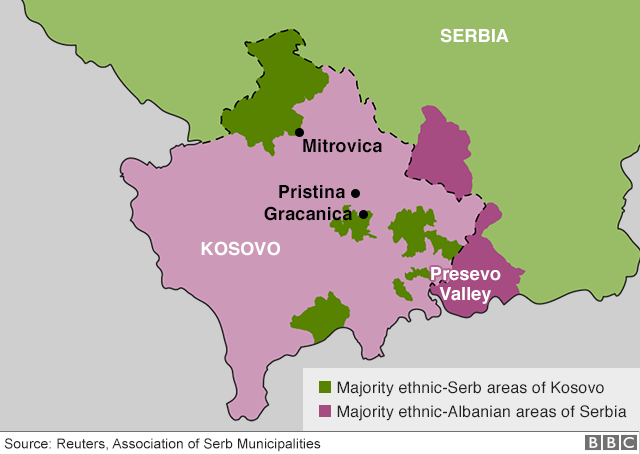 An end to deadlock?
Proponents say a territory swap would, potentially, end the stalemate which has persisted for 10 years, since Kosovo unilaterally declared its independence from Serbia.
"Border change may seem distasteful, but many regard it as a practical solution," says James Ker-Lindsay, a Balkans specialist at the London School of Economics.
"If there were a consensual agreement between the two sides, it would open the way for a full normalisation of relations between Belgrade and Pristina and allow Kosovo finally to become a member of the United Nations."
But before the idea has even been fully articulated, it is already taking flak.
The Western Balkans went through a convulsion of border changes in the 1990s.
More than 100,000 people died and millions were displaced in ethnically driven conflicts.
:
A recipe for conflict?
Paddy Ashdown oversaw the aftermath in Bosnia, as the international High Representative. He has co-authored an appeal to the European Union's foreign policy chief, Federica Mogherini, to stamp out any talk of a territory swap.
"Moving borders like this will not solve divisions, it will deepen them," said the letter, warning that nationalist politicians might use a territory swap to agitate for the break-up of Bosnia.
"Sustainable peace can only come when we learn to live in multi-ethnic communities, rather than re-drawing borders to create mono-ethnic ones. [There is] no policy more likely to lead us back to division and conflict in the Balkans than the one which some are apparently now supporting."
 Ms Mogherini has a key role to play. She chairs the normalisation talks in Brussels between Serbia's President Aleksandar Vucic, and his opposite number from Kosovo, Hashim Thaci.
Without explicitly mentioning a territory swap, she has been urging the two sides to settle their differences.
"The time has come to put an end to that conflict," she said on Monday.
"I am confident that presidents Vucic and Thaci will manage to achieve a binding legal agreement for the normalisation of relations and this agreement will comply with international law and it will help for the stability of the entire region."
Brussels 'the key' for Kosovo and Serbia
Ms Mogherini's predecessor, Cathy Ashton, initiated the normalisation talks. She told the BBC that both presidents were "trying to get to a conclusion" but that international approval would be the key to any deal.
"The key to the solution will be how Brussels responds. They will look to Berlin and talk to Paris and others. In the end, it's about EU membership for both."
source and more:
bbc.com