Source: The Guardian
Simon Schama, Howard Jacobson and Natasha Kaplinsky among supporters of campaign to protect Jewish heritage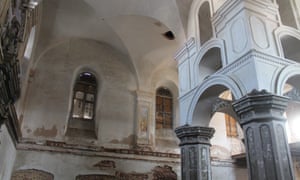 Its gothic twin turrets and stained-glass window featuring a six-pointed star look out from a hillside over a town in south Wales. A Welsh dragon decorates the building's gable. But rooms that once resonated to the murmur of prayers and readings from the Torah are abandoned; windows are broken, plaster is crumbling and the roof is open to the sky.
But now the Old Synagogue in Merthyr Tydfil, built in the 1870s, could be reborn. It is part of an extraordinary scheme – to be launched this week by the historian Simon Schama – to map more than 3,300 historic synagogues across 48 European countries, and restore the most significant sites.
The synagogue in Merthyr Tydfil was the centre of a community of around 400 Jews, many from eastern Europe. Its members ran a button factory, a chocolate business, a betting shop, property companies and other local enterprises. The annual Jewish Ball was attended by many of the town's citizens, Jews and non-Jews.
But by the 1980s, a minyan – a quorum of 10 men – could no longer be reached, and the synagogue was sold. The grade II-listed building became a Christian centre and later a gym; today it lies empty and vandalised.