Exclusive: In part three of his Inside Syria series, and the first Western media report from Afrin since the start of the Turkish offensive, Robert Fisk shows just how 'surgical' is the attack on 'terrorists' in Operation Olive Branch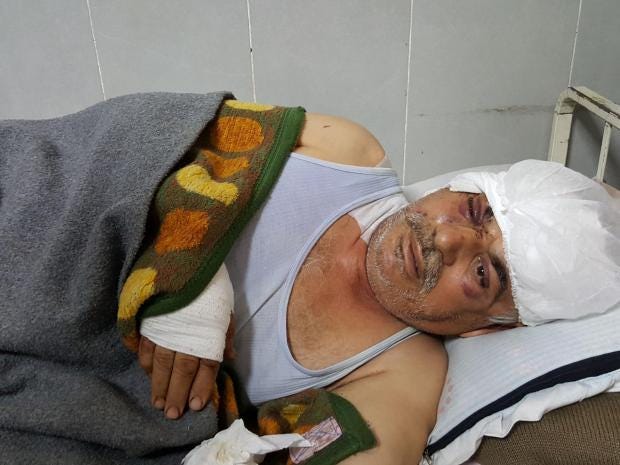 When Taha Mustafa al-Khatr, his wife Amina, his two daughters Zakia and Safa and son Sulieman went to bed in the tiny village of Maabatli, they placed their shoes outside the door. Most Middle Eastern families do the same.
It's a tradition and a sign of cleanliness in the home. The cheap plastic slippers were still there, of course, when the Turkish shell hit their house at one in the morning – and when I arrived a few hours later, I found the same shoes, a few blown down the stairs but most still neatly lined up next to each other. Did one of the daughters choose the slippers with the plastic bows? Even the rescue workers – such as they are in the Kurdish province of Afrin – didn't touch the shoes. They left one of the blood-soaked bedspreads where it was in the rain under the collapsed roof of the cheap breeze-block house. The bodies, of course, had gone.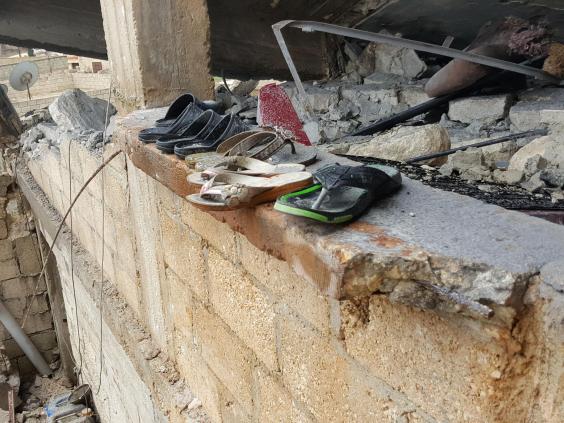 Since the identities of the victims are known – not, of course, that of the Turkish gunner who slaughtered this family – we should, perhaps, be better acquainted with them. Taha was 40 years old, his wife Amina the same age, Zakia was 17 and her bother Suliemann just 14. Safa, who is 19, survived – miraculously, with only wounds to her hands – but of course she is now an orphan.
Ironically, since the Turks are supposedly aiming at Kurdish YPG fighters, the very name of their military assault on Kurdish Syria, Operation Olive Branch, makes one's gorge rise in the stone village of Mabeta, surrounded as it is by olive orchards – and the al-Khatr family were not Kurds but Arabs, refugees from the village of Tel-Krah further north.
They were so new to Maabatli that Kurdish neighbours I spoke to did not even know their names, but in the Kurdish province – the village is about 10 miles from the city of Afrin – populations are mixed (there are Alawites, too) and no one was surprised when the al-Khatrs arrived on Thursday night.