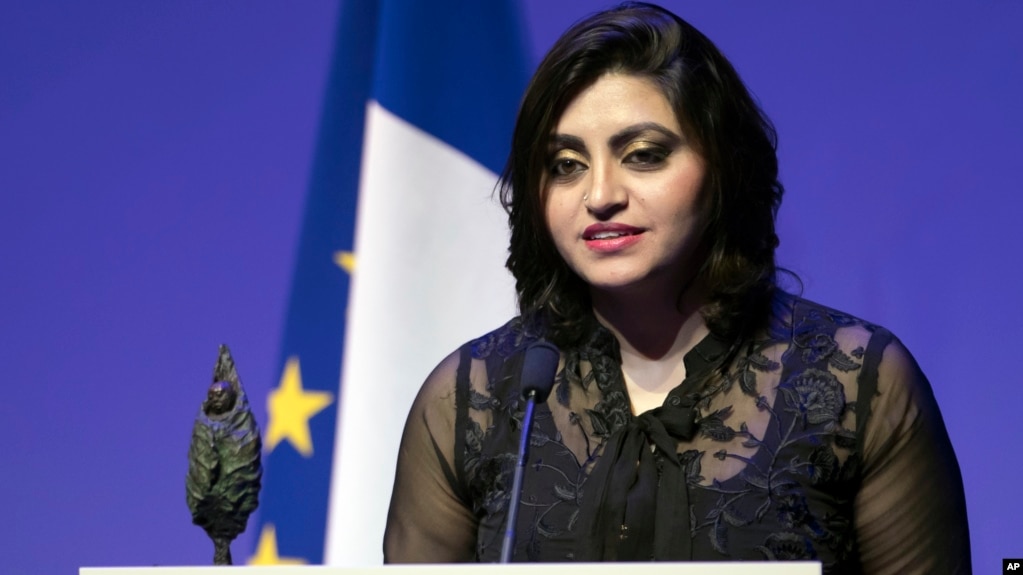 WASHINGTON — 
A female Pakistani rights activist has broken with tradition and set a precedent by seeking legal action against the person who accused her of violating the country's anti-blasphemy laws.
Gulalai Ismail, founder of the Pakistan-based, nongovernment organization Aware Girls, was accused of insulting the religion of Islam, a charge she denies.
Hamza Khan, 23, a student from Khyber Pakhtunkhwa province, started a social media campaign against Gulalai, accusing her of "insulting religion and Pashtun culture." He seemingly was unhappy with her role as an activist.
Khan, who claims to be the president of Mardan Youth Parliament, uploaded a 12-minute video on his Facebook page, November 20, 2017, in which he called for a mob to attack Gulalai for her alleged acts of blasphemy.
​Fears for safety
Fearing for her security, Gulalai filed a case against Khan on November 21 with the country's Federal Investigation Agency (FIA), which led to Khan's arrest this week after a Peshawar court issued a verdict against him.
Pakistani authorities intervened, and Facebook removed the video, in which Khan is heard saying that Gulalai must be "eliminated" to safeguard Islam.
Gulalai told VOA she wants to be a voice for those who have been wrongly accused.
"I wanted to set a precedent so that other human rights activists and other young women can speak out and can use their right to freedom of expression without the fear of being silenced in the name of religion," she said.
Additional Sessions Judge Ayesha Arshad in Peshawar dismissed a bail application for Khan.
Seen as 'daring' decision
Some see the order that led to the arrest of Khan as a bold move by Arshad.
Noreen Naseer, a professor of political science at the University of Peshawar, credited Arshad for her "daring" decision.
"It has set a precedent that if anyone tried to malign, threat[en], or use any other mode to harass and scare the women activists, then the consequences will be of serious nature," Naseer said.
Gulalai's actions were also celebrated by other activists.
"I think she did the right thing and took a big step that most women don't, because harassers are the majority, especially if they belong to political parties," Nadia Khan, a social media activist, told VOA.
"I think Gulalai has given hope to women who go through this and are convinced by men to let it go because of the consequences," Nadia Khan added.
Gulalai's Aware Girls organization, which is based in Peshawar, has been working for gender equality, education and female empowerment in the border regions of Afghanistan and Pakistan. Her work as an activist has brought other cases of harassment as well.