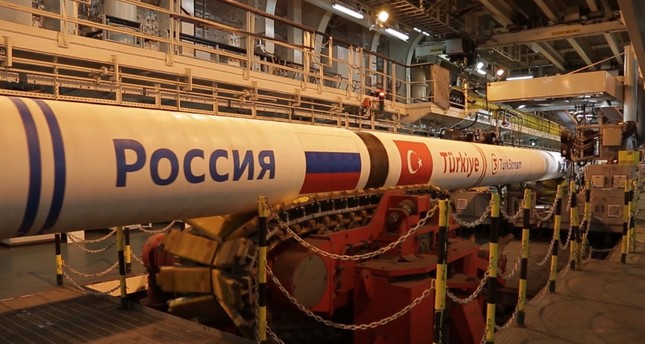 A successful example of Turkish-Russian energy cooperation, TurkStream, which will carry 31.5 billion cubic meters of gas per year, hit Turkey's exclusive economic zone as the pipe-laying operations on Russian soil were completed
The first pipeline of the TurkStream Offshore Gas Pipeline entered the Turkish exclusive economic zone (EEZ) on Nov. 4, the Russian natural gas giant Gazprom announced Saturday. The Pioneering Spirit, the world's largest pipe laying vessel, marked the occasion by laying on the seabed the section of the pipeline with Russian and Turkish flags, symbolizing the crossing of the EEZ border between the two countries, the company said in a press release. The vessel crossed the Bosporus and entered the Black Sea on May 31, and Russian Federation President Vladimir Putin officially started pipe laying on June 23 in the deep-water sections of the Black Sea.
According to the press release, the border crossing also marks completion of construction of the two offshore lines within the Russian EEZ.
"In total, 448 kilometers of the pipeline were laid down, equally divided over the two lines. Construction of nearly 25 percent of the offshore pipeline section has been realized in less than 6 months," read the statement.
After reaching the border of the EEZ with one line, the Pioneering Spirit returned toward Anapa to commence deep-water pipe laying with the other line. Allseas's vessel Audacia had already finalized the shallow water section for both lines in late July, said the company.
"Pioneering Spirit will now continue pipe-laying operations with one pipeline all the way close to the Turkish landfall. The two TurkStream pipelines will come ashore in Turkey near the town of Kıyıköy, which is located approximately 100 kilometers west of Istanbul," it said.
The average speed of pipe laying by the Pioneering Spirit is in excess of 4 kilometers per day, with a record set by the Allseas crew on Nov. 1, by constructing 5.15 kilometers of TurkStream pipeline in one day. Water depth at the EEZ boundary is approximately 2,171 meters, which is close to the deepest part of the TurkStream route (2,198 meters).
TurkStream will consist of two offshore pipelines, with a total capacity to transport up to 31.5 billion cubic meters of natural gas per year.
MORE:   https://www.dailysabah.com/energy/2017/11/06/turkstream-finishes-pipe-laying-in-russia-enters-turkish-economic-exclusive-zone