The Russian Defence Ministry has denied its air force targeted humanitarian workers and said drone footage from the incident shows a rebel vehicle carrying a heavy mortar was travelling alongside the convoy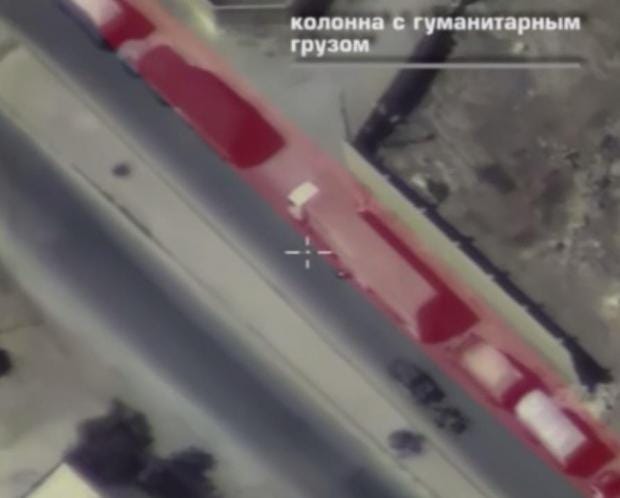 Russia has denied US claims its planes hit a UN aid convoy near Aleppo, releasing drone footage which it claims shows the trucks were travelling with a rebel vehicle carrying a heavy mortar.
Senior US officials speaking anonymously have said they have evidence that the Monday night attack on a UN and Red Crescent convoy, which killed around 21 people and destroyed aid for thousands, was carried out by two Russian Sukhoi SU-24 jets which were seen above the vehicles within one minute of when they was struck.
The White House said it couldn't confirm the information, as both the Syrian and Russian air forces use the plane, but intelligence reports suggested it was indeed an attack from the air carried out by Russian planes.
On Tuesday, however, Russia released video from the incident which it says "clearly shows how terrorists are redeploying a pickup with a large-calibre mortar on it using the convoy as a cover." In the footage, the truck can be seen travelling alongside the aid vehicles. The drone moves away before the incident takes place.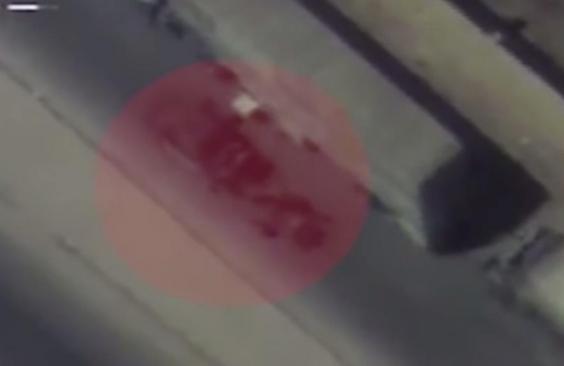 A spokesperson from the Russian Foreign Ministry rejected accusations of culpability from the US.  "We are considering, with resentment and indignation, attempts by some foreign curators of rebel units and terrorists in Syria to put the blame for the incident on the Russian and Syrian air forces who allegedly bombarded a relief convoy," a statement given to Russian news agencies said.
The Russian Defence Ministry added it believed the attack did not involve the sort of damage consistent with an air strike, and instead was caused by the presence of field artillery and a subsequent fire.  The US government had "no facts" to support the allegations and Russia has "nothing to do with this situation," a spokesperson added.
Eyewitnesses reported that the attack was an aerial bombardment, which destroyed 18 of 31 trucks and damaged a warehouse and health clinic in the rebel-held town of Uram al-Kubra in Aleppo province.
Local paramedic and media activist Mohammad Rasoul, said the prolonged attack lasted for two hours, and "erased the convoy from the face of the earth." He estimated 100 tonnes of medical equipment, baby food and winter clothes had been destroyed.
"I've never seen anything like this attack," he told Reuters. "If this had been a military position, it wouldn't have been targeted with such intensity."
As the Syrian opposition doesn't have an air force, the White House and State Department said that by the process of elimination, the attack was carried out by either Russian or Syrian aircraft.
While both the Russian and Syrian governments have denied carrying out the attacks or deliberately targeting humanitarian workers, Washington has insisted it ultimately holds Moscow responsible, since under the recent ceasefire agreement Russia was supposed to coordinate with and prevent President Bashar al-Assad's government from carrying out air strikes. White House spokesperson Ben Rhodes said on Tuesday that US coalition jets were not in operation around Aleppo, adding, "In any event, we hold the Russian goverment responsible."
SOURCE:   http://www.independent.co.uk/news/world/middle-east/russia-claims-bombed-un-aid-convoy-was-travelling-with-militant-truck-a7319796.html
UN Secretary General Ban Ki-moon used his last UN General Assembly address to condemn the attack as "sickening, savage and apparently deliberate."
Despite inflamed relations with Russia, US Secretary of State John Kerry emerged from international talks on the Syrian conflict in New York on Tuesday to say that the recent ceasefire brokered by the two superpowers "isn't dead".
The UN has said the incident is potentially a war crime. The international body's humanitarian wing suspended all aid operations in the country after the attack, jeopardising the health and safety of millions of Syrian civilians