Lone children seeking refuge in the UK – many of whom have never seen a table tennis match before – find a topspin welcome on the south coast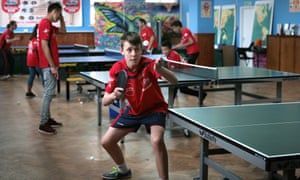 On the wall of Brighton table tennis club is a large map of the world, covered in drawing pins to represent where each member comes from. The largest cluster falls, unsurprisingly, on southern England, with black and white pins piling on top of Brighton. The second most common place, with eight pins, is Afghanistan.
In May the sports club became the first in the country, of any type, to be given the title "club of sanctuary" – part of the city of sanctuary movement that recognises cities and schools that welcome refugees and asylum seekers.
Brighton is home to roughly 60 unaccompanied minors, almost all boys, who came to Britain seeking asylum. They are housed mostly with foster families, until they turn 18 and their asylum claims are processed. Of these 60, around half have come to the club.
The work began with Anh, a child from Vietnam who was the victim of human trafficking. He started attending the club in January 2015 at the suggestion of his social worker. Now 19, Anh is a qualified table tennis coach, and was recently granted leave to remain in the country for five years. His involvement in the club was cited by the Home Office as evidence of strong connections to his community.
After the success with Anh, his social worker began recommending the club to all the asylum seeker children in her care, and news spread. Now 15 to 20 boys, from Afghanistan, Iraq, Eritrea, Kurdistan and Algeria, come every week, many three or four times, for table tennis lessons and friendship.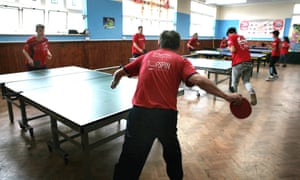 "I am really happy there," says 17-year-old Faisal, from Helmand province in Afghanistan. "Everyone is really nice. Before it was really difficult to find friends in England."
The programme has been so successful in teaching the boys English and fostering friendships between the young asylum seekers and local children that Sport England, in conjunction with Table Tennis England, has just given the club founder, Tim Holtam, a £100,000 grant to continue their work.
Many of the boys have been through a lot. Noor, 15, from Nangarhar province in Afghanistan, says his family told him to escape to Britain because they feared his life was in danger.
Abdul, also 15 and from Nangarhar, came through Calais by himself at the age of 13. He left Afghanistan after returning to lessons after lunch one day to find his school had been bombed.
Holtam says that as they build relationships with the boys, fragments of these stories emerge, but that mostly the club just allows them to have fun and play. "I think when they come here, when they're playing table tennis, they're not thinking about how they've fled. The benefits of table tennis to mental health is huge," he adds.
"We'd like to think that their involvement in this club will help them – not necessarily help them with the Home Office – but help them feel like there are people in this country who care about them," says Holtam. "Sometimes they come in here and then they go to the shop and they see all these newspapers with all of these horrible headlines. It's about doing something locally that's positive and showing these guys that there are people in this country who care about them."
Table tennis is not a natural sport for a lot of them. Faisal and Abdul, for example, prefer cricket. When the boys arrived at the club, many of them had never seen a table tennis game before.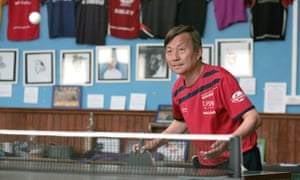 "I had seen it twice I think, not live, on TV," says Noor. "I didn't know the rules, I didn't know how should I take the bat in my hands."
But, says Holtam, table tennis is accessible and a leveller – people can learn it quickly and play it at different ages and states of fitness.
Evidence of the club's inclusiveness are all around. Leaning against some chairs, a whiteboard shows the words for zero to 11 – the scores of their shortened "top table" games – written in English, Vietnamese, Pashtu, French, Italian, Farsi and Russian.
Another poster shows some of the club's members, including Harry Fairchild, who is the national Down's syndrome champion and won a bronze in the world Trisome Games in Italy; Wen Wei Xu, one of the founders of the club and three-time UK-Chinese champion; a player who has just travelled to New Zealand to compete in the over-80s championship, and a girl ranked top five in the UK's under-13s league, as well as Anh, Faisal and Abdul.
"This is a club of sanctuary for everyone, that's the key point," says Holtam.
Some names have been changed
SOURCE:   https://www.theguardian.com/world/2016/aug/26/turning-the-tables-the-ping-pong-sanctuary-for-young-refugees