In yet another powerful display of British multiculturalism, a Muslim politician elected to Scottish parliament delivered his oath of allegiance in his native language, Urdu.
Humza Yousaf, a member of the Scottish National Party(SNP) who won a seat from the city of Glasgow, spoke first in English and then in Urdu, swearing; "that I will be faithful and bear true allegiance to Her Majesty Queen Elizabeth" and closing with "so help me God.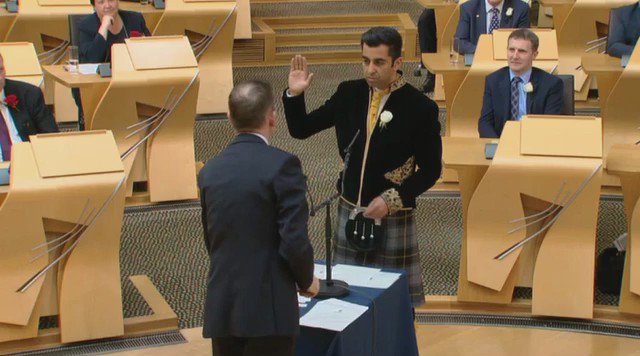 Yousaf's party advocated Scotland's unsuccessful bid for independence in 2014 on the basis of an inclusive, diverse national vision and for a greater control over its own affairs. The SNP now governs politics in Edinburgh and also boasts sizable bloc of seats in Westminster.
While some on social media were predictable appalled by the swearing in of a Muslim MP, Yousaf however laughed off the anticipated backlash to his oath from those fearful of the role of Islam in British society.
Yousaf was not the only politician to take the oath in another language: Other members of Scottish parliament spoke in local tongues such as Doric, Gaelic and Scots.
Many took to Twitter in support of the Muslim http://twitter.com/HumzaYousaf/status/731270770765254657/photo/1
http://tribune.com.pk/story/1103256/muslim-politician-in-scotland-makes-oath-of-allegiance-in-urdu/