Source: The Gaurdian
Asylum seekers in Cardiff are being issued with brightly coloured wristbands that they must wear at all times, in a move which echoes the "red door" controversy in Middlesbrough and has resulted in their harassment and abuse by members of the public.
Newly arrived asylum seekers in the Welsh capital who are housed by Clearsprings Ready Homes, a private firm contracted by the Home Office, are being told that they must wear the wristbands all the time otherwise they will not be fed. The wristbands entitle the asylum seekers, who cannot work and are not given money, to three meals a day.
It follows the news that asylum seekers in Middlesbrough had complained their houses were targeted after people realised all front doors were painted the same colour red by the private firm responsible for housing them, G4S.
Eric Ngalle, 36, spent a month in Lynx House in Cardiff, where initial accommodation is provided for asylum seekers, before he was granted refugee status in November 2015. He is now working as a writer and making a theatre production with the Arts Council of Wales.
He said: "My time in Lynx House was one of the most horrible experiences in my life. I hated wearing the wristbands and sometimes refused to wear them and was turned away from food.
"If we refused to wear the wristbands we were told we would be reported to the Home Office. Some staff implemented this policy in a more drastic way than others. I made a complaint about the wristbands to Clearsprings but nothing was done. We had to walk from accommodation about 10 minutes away to Lynx House to get food and sometimes when we were walking down the street with our wristbands showing.
"On the road we had to walk down there is often heavy traffic. Sometimes drivers would see our wristbands, start honking their horns and shout out of the window, 'Go back to your country.' Some people made terrible remarks to us.
"If you take off the wristband you can't reseal it back onto your wrist so if you want to eat you have to wear it all the time. Labelling them on a daily basis with silver, red or blue tags only serves as a reminder that they are still wearing the garments of an outcast."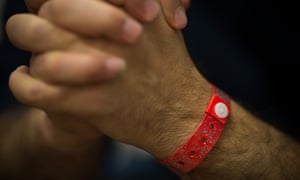 Maher, 41, who recently stayed at Lynx House but has now been granted refugee status, said he was very angry about being forced to wear the wristband.