Visitor numbers expected to plummet by tens of millions in crisis that eclipses the 2004 tsunami, bird flu and Sars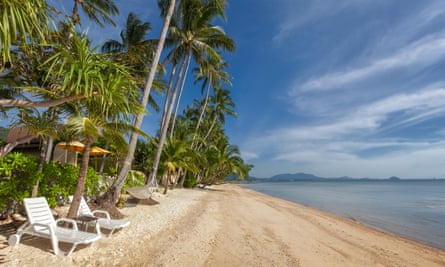 Koh Samui's beaches are almost entirely devoid of people since the coronavirus pandemic began. Last year, 40 million tourists visited Thailand. Photograph: Marco Pompeo Photography/Alamy Stock Photo
The streets of Koh Samui, one of Thailand's most popular tourist destinations, are eerily quiet. Along Chaweng's Beach Road, a usually raucous party area, shuttered shops stretch into the distance.
Before the coronavirus pandemic, it was buzzing with traffic. Now, taxi drivers sit on the roadside, with little hope of finding customers. Where bikini-clad sunseekers once browsed souvenir shops and drank at neon-lit bars, a lone street dog stretches on the pavement.
Elsewhere, swathes of Samui's idyllic, sandy white beaches are almost entirely free of people.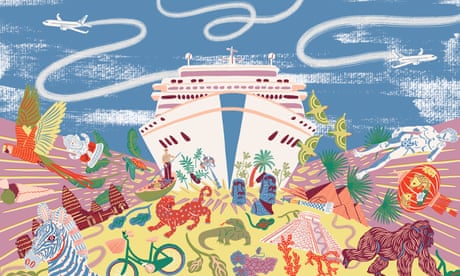 About 40 million tourists flocked to Thailand last year, drawn by its spectacular coastlines, ornate temples and famous cuisine. Yet in 2020, the country will struggle to attract even a quarter of that number, according to the Tourism Authority of Thailand (TAT).
Tourism ground to a halt in April, when Thailand imposed a ban on all incoming passenger flights. The country – which has so far managed to contain Covid-19, recording 3,255 cases and 58 deaths – is discussing travel bubbles with low-risk neighbouring countries, but no one knows when these might be established. Borders remain shut to almost all foreign tourists.
Market stalls in Chaweng on Koh Samui Photograph: The Guardian
The travel sector has survived devastating crises before, including the 2004 tsunami, bird flu and Sars outbreaks. But the impact of the coronavirus pandemic is beyond comparison, says Tanes Petsuwan, deputy governor for marketing communication at the TAT. During previous crises, revenue dropped by around a fifth, he said. This year, the coronavirus pandemic is expected to cause a 80% fall in revenues. "It's a huge impact," he said.
To make matters worse, Thailand's economy has become even more reliant on tourism, accounting for almost 20% of GDP, according to Tanes. About 4.4 million people are employed across the industry – in transport, travel agencies, restaurants and hotels.
In Samui, many have gone for months without work. Before coronavirus, Jarunee Kasorn, who works in a local massage parlour in Chaweng, says her colleagues would welcome up to 90 clients a day. They're one of the few businesses to reopen on Beach Road, but a whole day can go by without a single customer. "If there are no tourists, then there's no business," she said. Most of the shop's 20 staff have left the island altogether, and returned to their family homes elsewhere in Thailand.
Though modest social assistance payments were offered to workers during lockdown, this is no longer available.
"Many people say we won't die from Covid, but we will die because we are not able to eat," says Ta Sasiwinom, who has just reopened her stall at an outdoor market in Fishermen's Village, known as the walking street. The past few months have been a struggle for her and her two daughters. "We cook more cheaply – eating egg and rice, rice and egg," she says.