Moscow accused of trying to give money to the Taliban as part of its campaign to destabilise America and its allies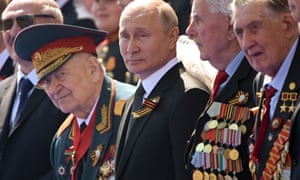 The Russian intelligence unit behind the attempted murder in Salisbury of the former double agent Sergei Skripal secretly offered to pay Taliban-linked fighters to kill British and American soldiers in Afghanistan, according to US reports.
The revelation piles pressure on the UK to take robust action against the Kremlin amid continuing anger over the government's delay in publishing a key report on Russian attempts to destabilise the UK.
The bombshell report in the New York Times says there has been a major escalation by Moscow to undermine the White House and its coalition allies, including the UK, as President Trump seeks a peace deal with the Taliban.
According to the paper, Trump was briefed on the activity months ago, but no discernible action has been taken. The UK received the intelligence last week. The 29155 unit of the GRU, an arm of Russia's military intelligence agency, was responsible for executing the plan, according to the paper. In recent years, it has been linked to assassination attempts aimed at destabilising the West.
Unit 29155 has been linked to an attempted coup in Montenegro, the poisoning of a Bulgarian arms manufacturer and subversion in Moldova.
British prosecutors have charged two of its agents with the attempted murders of Skripal, the former GRU officer who defected to the UK, and his daughter, in Salisbury in 2018.
"Russian attempts to undermine Nato efforts in Afghanistan are not new," said Tom Tugendhat, chair of the Foreign Affairs Select Committee. "We've seen incidents in the past but these accusations of encouraging the targeting of British and US forces are a step change and echo the warlike actions of the GRU in Salisbury. We need to recognise that we are in a contest that others are fighting even if we are not."
Russia has denied the allegations, accusing the New York Times of fake news and claiming that the story has placed the lives of its embassy employees at risk. The Taliban has also denied the story. But Dr Yuri Felshtinsky, a Russian intelligence expert who wrote the book Blowing Up Russia with the murdered spy Alexander Litvinenko, said the GRU's approach was a logical one: "It's just a continuation of military operations using different tools. And money is a very good tool to be used – if you pay somebody to kill Americans it's actually much easier and cheaper than to do it using the GRU."
Sir Andrew Wood, Britain's ambassador to Russia from 1995 to 2000, said the allegations were "perfectly plausible", adding: "I don't think it's the sort of thing made up for propaganda purposes. Of course, the Russians would deny it if Vladimir Putin had been photographed shooting someone in the head."