Source: CNN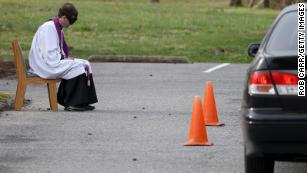 The nation' s ability to heal its body and soul will heavy rely on whether or not religious institutions can find new ways to bring people together and find meaning in what we've experienced .
One of the cruelest aspects of the coronavirus pandemic is that it forces so many people to die or grieve the dead alone. The Hasidic Jews who congregated, without social distancing, on Brooklyn's streets for a public funeral recently gave
vivid expression
to the frustration and anger that many Americans feel at not being able to accompany their family and community members to the grave.
Funerals and shivah visits conducted through a computer cannot offer the comfort of tearful hugs, outstretched hands and physical presence. Nor can we celebrate high points of our lives together in this "virtual" way.
Religion thrives in normal times, and helps its adherents thrive, through in-person rituals: these are regular experiences of communal solidarity, taking form as baptisms and weddings, breaking a Ramadan or Yom Kippur fast, or raising voices together in prayer.
But religious leaders, just the same, have quickly learned how to provide sacred meaning through words and music at a distance, on a screen. They will have to use technology even more imaginatively to hold and serve their members as we emerge from total isolation in coming months and the need for answers to the "why" questions grows more insistent.