Faith leaders say local youths were radicalised by extremist preacher Mohammed Zahran Hashim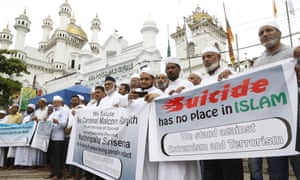 It was crude stuff: young men armed with hammers, arriving on motorbikes in the middle of the night. At four sites in Mawanella, a central Sri Lankan town, they hacked at Buddhist statues, lopping off parts of their faces and hands.
In the aftermath of the desecration on 26 December 2018, police and local politicians were more concerned with defusing the anger of the Buddhist community and preventing religious riots of the kind that had rocked the nearby city of Digana eight months before.
Now residents of Mawanella are asking if the vandalism of the statues was linked to the same extremist preacher who, four months later, has been identified as a leader of one of the deadliest terrorist attacks ever claimed by Islamic State.
"For all this trouble," says the Buddhist cleric B Piyarathena, referring to the string of suicide bombings that killed 253 people on Sunday, "Mawanella was the start."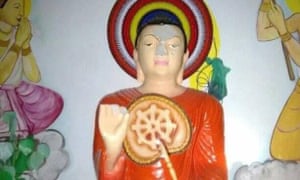 Chanaka Jayaree, a caretaker at one of the Buddhist shrines, was urgently woken by a neighbour at about 3.30am on the night of the vandalism spree. He had noticed unusual activity around the statue in the previous days, and was on high alert. "We had the idea that they might come," he says.
He ran to the site to see two men on a motorbike speeding away – and shards from the neon-ringed statue scattered on the floor.
Jayaree, 28, managed to catch one of the men – he shows off a picture of the youth, hands bound and tied to a power pole, as a trophy – but the other fought his way out. "We had a struggle," he says, pointing to a shoulder injury.
Analysts say the defacement of the statues was the first attack on another religious community by a network associated with Mohammed Zahran Hashim, an itinerant, extremist preacher who appeared in a video released by Isis's media arm this week claiming responsibility for Sunday's attacks.
more:
https://www.theguardian.com/world/2019/apr/26/mawanella-was-the-start-small-sri-lankan-town-reels-from-bombing-links