The 'inventor of 21st century populism' moved Turkey away from EU to appeal to the base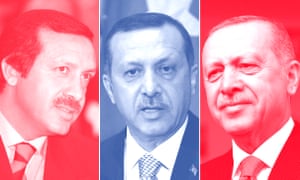 It was a speech that would change the trajectory of Recep Tayyip Erdoğan's life – and with it, Turkey's future.
Istanbul's first Islamist mayor had travelled to the poor, south-eastern town of Siirt in 1997 to speak at a rally. Dressed in his trademark working man's jacket, Erdoğan recited an Islamic-nationalist poem, deploying a rhetorical style he had practised as a teenager, addressing imaginary audiences on the decks of abandoned ships on the Bosphorus.
The crowd roared in delight, but the secular authorities were not pleased. The upstart mayor was charged with inciting religious hatred, sent to prison and banned from politics. But the reaction backfired, making Erdoğan more popular and paving the way for his first election victory in 2003 .
Looking back, Erdoğan's four-month spell in prison in the late 1990s was a formative experience. He emerged with an acute sense of the power of the spoken word and a sharpened resentment toward the elites who openly ridiculed his piety, mocked his working-class background and sought to exile him from the political establishment.
Two decades later, the Turkish president is a populist colossus. His most recent term in office was the most populist of any rightwing leader in the Global Populism Database, which tracks the levels of populist discourse in the speeches of almost 140 leaders in Europe and the Americas
more:
https://www.theguardian.com/world/2019/mar/11/from-reformer-to-new-sultan-erdogans-populist-evolution