Source: The Guardian
In the chilly pre-dawn gloom one recent morning, Father Makarios hurried to his chapel, one of dozens of churches and cathedrals across Mount Athos, to perform morning liturgy. A two-hour marathon of biblical recitations and sonorous chanting, it would be just one of many services that day.
After the liturgy, Makarios, a 68-year-old Greek monk who has lived on Athos for 51 years, changed from his white prayer robes into his habitual black attire and doled out spiritual advice to a group of Belarusian businessmen who had made a pilgrimage to see him, over an austere breakfast of coffee and nuts.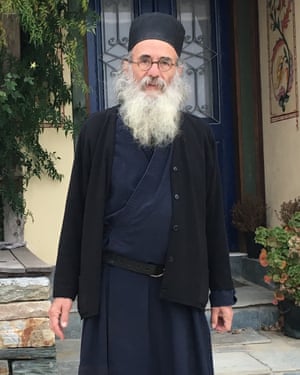 For centuries, Orthodox men have come to Mount Athos, a closed peninsula in northern Greece, to sequester themselves away from the everyday concerns of the outside world. The only entrance is by boat, and women are strictly forbidden to set foot on the territory. Male pilgrims, after receiving a special permit, can visit to confess and seek counsel from the 2,000 monks at the 20 monasteries and smaller "cells" dotted along the hilly shoreline. It is one of the holiest sites of Orthodoxy, the eastern form of Christianity that split with Catholicism in the 11th century.