COMPILED FROM WIRE SERVICES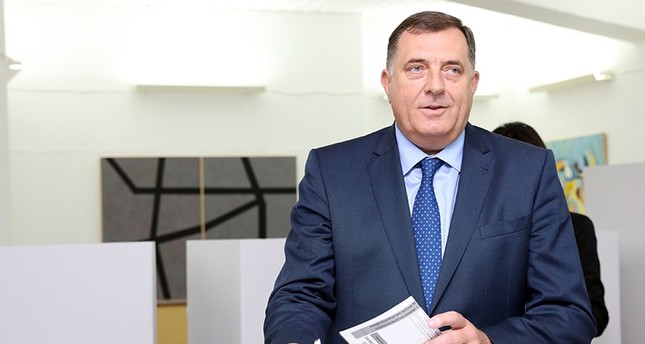 Bosnian-Serb candidate for Bosnia and Herzegovina's tripartite Presidency in the next term in office, Milorad Dodik, casts his ballot, at a voting station in Laktasi, on Oct. 7, 2018 (AFP Photo).
Serb nationalist Milorad Dodik claimed victory early Monday in Bosnia's tripartite presidency after Bosnians went to the polls Sunday for the country's general election.
"This is victory as clean as a whistle and I proclaim this victory," Dodik announced, though his rival's party said the vote was too close to call.
Dodik said he won 56 percent of the vote in Sunday's election and that his main opponent, Mladen Ivanic, won 44 percent. Dodik said his claim was a projection made with 85 percent of ballots counted and not expected to change significantly.
He said "the people have decided."
Preliminary official results are expected later.
Dodik's election deals a blow to efforts to strengthen the country's unity more than 20 years after a brutal ethnic war.
Some 3.3 million people were eligible to vote on Sunday for an array of institutions in Bosnia's complex governing system, created by a peace accord that ended the 1992-95 war that killed 100,000 people.
The country consists of two regional mini-states — one Serb-run and a Muslim-Croat entity — with joint institutions in a central government. Voters were electing the three-person Bosnian presidency, the Serb president and the two entities' parliaments and cantonal authorities.
The election's main focus was the Bosnian presidency because of the candidacy of hard-line Serb leader Dodik, who advocates eventual Serb separation from Bosnia.
Dodik also is a key Balkan ally of Russian President Vladimir Putin, and his victory would mean stronger influence of Russia.
Bosnia's Serbs and Croats want to move closer to their ethnic kin in neighboring Serbia and Croatia, while the Muslims want to keep Bosnia together. The issue was at the core of the 1990s' war.
more:
https://www.dailysabah.com/balkans/2018/10/07/serb-nationalist-dodik-claims-victory-in-bosnias-tripartite-presidency