Source: The Guardian
Discrimination against community intensifies after politicians ratchet up anti-gay rhetoric to gain votes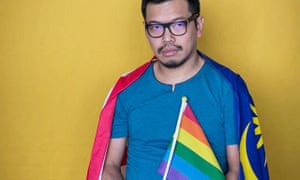 In the early hours of Saturday, the police and government officials raided a small nightclub in Kuala Lumpur.
The venue, Blue Boy, was known to be popular with the LGBT community, but for years had been relatively left alone by the authorities. Until the weekend. Twenty men were detained and ordered into counselling for "illicit behaviour" by the Federal Territory Islamic Religious Department of Malaysia (JAKIM).
Government minister Khalid Samad later released a statement on the motivations behind the raid. "Hopefully this initiative can mitigate the LGBT culture from spreading into our society," he said.