Source: The Guardian
BY Harriet Sherwood Religion correspondent
Archbishop says removal of C of E's privileges is decision for parliament and people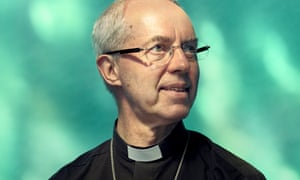 Justin Welby, the archbishop of Canterbury, has said disestablishment of the Church of England would not be a disaster, and removal of the church's privileges should be "a decision for parliament and people".
In an interview with the Guardian ahead of the royal wedding, Welby acknowledged that disestablishment – separating church and state, and removing the C of E's official status – would be a "complicated process".
"Would disestablishment be a disaster? No," he said, adding: "Nothing's a disaster with God."
As the leader of England's established, or state, church, Welby will take Prince Harry and Meghan Markle through their marriage vows at St George's Chapel at Windsor Castle on Saturday. The archbishop also officiates at state occasions, including the coronation of the monarch.