BBC.COM
Sajid Javid has become the UK's first home secretary from an ethnic minority background after Amber Rudd's exit.
The son of a Pakistani bus driver said he would review immigration policy to make sure it was fair and people were treated with "dignity and respect".
Ms Rudd quit after she said she "inadvertently" misled MPs over what she knew about immigration removal targets.
Labour's Diane Abbott said Ms Rudd had "done the right thing" in quitting.
Ms Rudd's departure came after she faced mounting criticism over her handling of the Windrush scandal and immigration policy.
She told MPs last week the Home Office did not have targets for removing illegal immigrants, but on Sunday the Guardian published a letter in which Ms Rudd set out her "ambitious but deliverable" aim to deport 10% more illegal immigrants over the "next few years" to Theresa May.
The Windrush generation settled legally in post-war Britain but their right-to-remain has been questioned, with some people having been detained, lost their jobs and been denied access to medical care.
This has prompted calls for the government to abandon its "hostile environment" policy on illegal immigration, which Ms Rudd and Prime Minister Theresa May continued to defend.

Analysis
By BBC political editor Laura Kuenssberg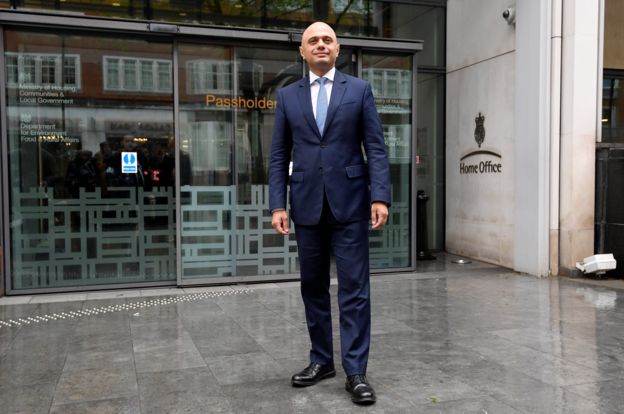 Sajid Javid is not particularly a close ally of the prime minister herself.
He is not particularly an ardent Remainer – although his appointment retains the balance on the vital Brexit cabinet committee.
What he is, however, is someone who has already expressed public anger about the Windrush fiasco.
He's also an experienced minister, who has been at several departments without major calamities.
However, he did face calls to stand down as business secretary over his response to the steel crisis in 2015 which saw Tata Steel cut thousands of jobs.
And he is also, as he sometimes jokes about with pride, a Conservative story of aspiration and hard work, a boy from an immigrant family who worked hard – and had a portrait of Margaret Thatcher in his office.
For him, challenges ahead are huge. But for him the opportunity is too.
Mr Javid told the Sunday Telegraph the Windrush scandal felt "very personal" to him as coming from a family of immigrants "it could have been me, my mum or my dad".
He told the newspaper more could be done to address the concerns of people whose status had been wrongly questioned – and who have been promised compensation and fast-tracking to UK citizenship if they want it.
Mr Javid, a former investment banker and MP for Bromsgrove since 2010, has been communities secretary for about 18 months.
The 48-year old, who previously served as business and culture secretaries, led the government's response to last year's Grenfell Tower fire disaster.
---
Analysis by BBC home affairs correspondent Danny Shaw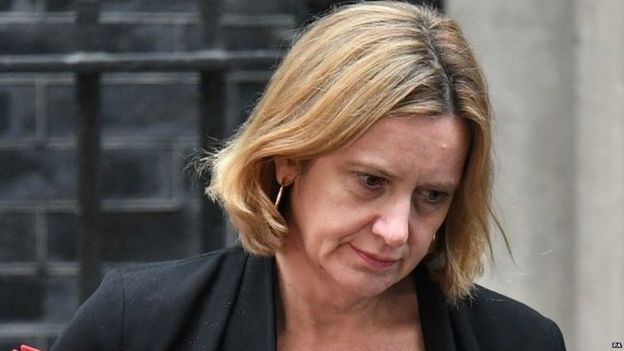 With responsibility for immigration, counter-terrorism and policing, the job of home secretary is one of the toughest in government. During one period under Labour, there were six home secretaries in eight years.
But Amber Rudd's job was made doubly difficult because she was following Theresa May, who'd survived in the post for more than six years and had set in train a series of plans and objectives that Ms Rudd was expected to stick to, even if she disagreed with them.
The former energy secretary was unable to put her stamp on any significant policy during her 21 months at the Home Office; much of her time was spent fire-fighting – dealing with the implications of Brexit, the rise in violent crime and last year's terror attacks.
Presentationally, Amber Rudd was impressive. But she lacked a command of the detail, which her predecessor had mastered, and it proved to be her undoing.
---
Following Mr Javid's promotion, No 10 also announced former Northern Ireland secretary James Brokenshire will return to the cabinet as housing, communities and local government secretary while International Development Secretary Penny Mordaunt will take Ms Rudd's other role as women's and equalities minister.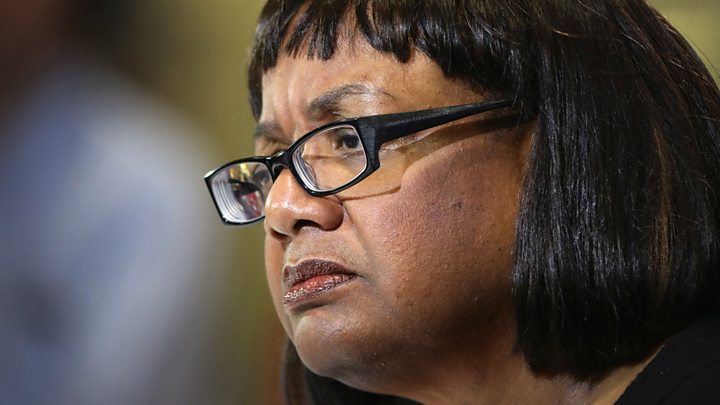 Ms Abbott, the shadow home secretary, added that the "architect of this crisis" – the prime minister – must come before the Commons to explain "whether she knew that Amber Rudd was misleading Parliament and the public last week".
---
How the immigration 'targets' row unfolded
The controversy began when it emerged that some migrants from Commonwealth countries, who were encouraged to settle in the UK from the late 1940s to 1973, were being wrongly declared illegal immigrants.
Ms Rudd came under fire for the government's treatment of these people – known as the Windrush generation – and their relatives and the wider impact of its "hostile environment" policy designed to deter illegal immigration.
She told MPs last Wednesday there were no removals targets for illegal immigrants – comments subsequently contradicted by a 2015 inspection report. She later admitted "local" targets for voluntary removals had been set but she told the Commons on Thursday she had not been aware of them.
But the Guardian reported a June 2017 memo from an official, copied to Ms Rudd, that referred to targets. The newspaper also published a letter at the weekend, from January 2017, where Ms Rudd told Theresa May about plans to restructure her department and increase removals "over the next few years".
Sources told the BBC that on Saturday and Sunday Ms Rudd and her officials did a thorough search of all documents and found other references to operational targets which she felt she should have been aware of.