Source: The Guardian
By Liz Ford
Millions of women embrace social network to push for social reforms including abolition of system of male dominion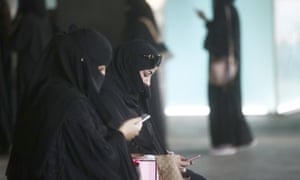 Women in Saudi Arabia are riding a "Twitter wave" of activism that they hope will lead to the abolition of a legal guardianship system that gives men authority over their lives.
There has been an "explosion of advocacy" on Twitter over the past two years, say the authors of a report – the first of its kind produced by Saudi women – documenting how women in the kingdom have been fighting for their rights since 1990.
The move to social media has been spearheaded by younger women who, emboldened by the Arab spring and the crown prince's vision for the country, have embraced the medium as an increasingly important tool for change.