ŞEYMA NAZLI GÜRBÜZ, MEHMET ÇELIK
ISTANBUL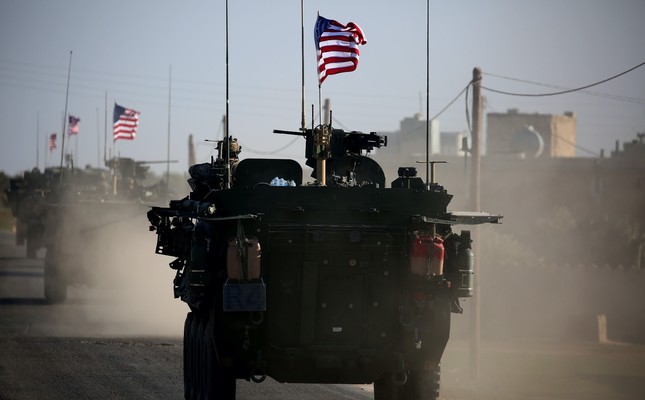 A US military vehicle= drives near the village of Yalanli, on the western outskirts of the northern Syrian city of Manbij, on March 5, 2017.
Turkey is determined to risk confronting the US if needed over Manbij since Washington continues to support the YPG instead of its NATO ally
Turkish-U.S. relations are at a critical point due to disagreements over the northern Syrian city of Manbij, which is under the control of the PKK's U.S.-backed Syrian affiliate, the Democratic Union Party's (PYD) armed People's Protection Units (YPG) militia. While Ankara is determined to launch an operation on Manbij following Operation Olive Branch in Afrin to clear the city of terrorist elements, U.S. military officials have said that if Turkish forces move on Manbij, they would not hesitate to return fire if attacked.
"Turkey aims to carry its military success to the diplomatic area, since in the Middle East today, it is not possible to be diplomatically successful unless you have military power. Thus, Turkey risks confrontation with the U.S. … no matter what," said Nurşin Ateşoğlu Güney, dean of the Economic, Administrative and Social Sciences Faculty at Bahçeşehir Cyprus University, She added that Turkey's demand the U.S. is clear; the removal of the PYD and YPG from northern Syria.
According to Güney, Turkey's fast improvements in Operation Olive Branch in Afrin and a meeting in Istanbul as a continuation to the Sochi summit has led the U.S. to reconsider its relations with Turkey. "It was first considering that it can deal with Turkey's stance on the PKK and its Syrian affiliates somehow. However, with Operation Olive Branch, it realized that it can no longer continue like this. Thus, I believe that with the visits of both [National Security Adviser H.R.] McMaster and [Secretary of State Rex] Tillerson, the U.S. will try to evaluate the situation and convince Turkey to come up with a middle ground," Güney said.
She added that there could be a surprise regarding Manbij, a solution which was initially not expected.
MORE:   https://www.dailysabah.com/war-on-terror/2018/02/10/turkeys-resolve-to-eliminate-ypg-collides-with-us-support-for-terrorists-in-manbij-1518256753