COMPILED FROM WIRE SERVICES
ISTANBUL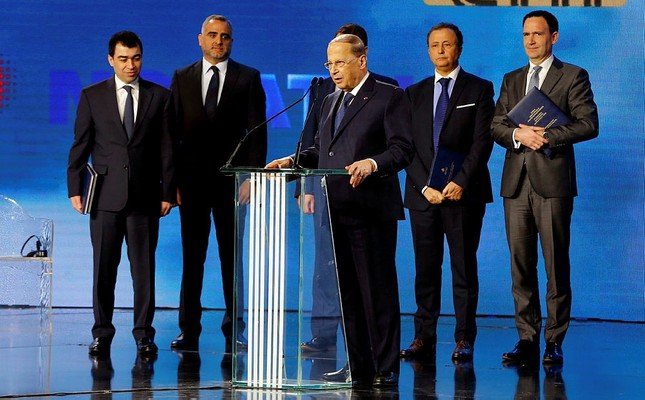 Lebanese President Michel Aoun, center, speaks during the signing ceremony with an international consortium to start exploratory offshore drilling for oil and gas in Beirut, Lebanon, Friday, Feb. 9, 2018. (AP Photo)
Lebanon signed Friday a deal with an international consortium to start exploratory offshore drilling for oil and gas amid tensions with Israel. Beirut hopes that oil and gas will help boost its struggling economy.
Lebanon's Foreign Minister Gibran Bassil warned Israel not to try to hinder the drilling on the Lebanese side saying that Beirut can also stop offshore development on the Israeli side.
Lebanon and Israel are technically at war and both countries have fought several wars over the past decades.
Israel has in recent days escalated its threats against Lebanon over its invitation for offshore gas exploration bids on the countries' maritime border claiming that Lebanon will be drilling in areas owned by Israel. Lebanese officials deny the Israeli statements, saying the area where the country plans to drill belongs to Lebanon.
The signing ceremony was held Friday afternoon in Beirut and was attended by President Michel Aoun and officials from the three oil companies — Italy's Eni, France's Total and Russia's Novatek.
Total and Eni each hold a 40 percent stake in the consortium, and Novatek has a 20 percent stake.
"We have achieved a big dream and Lebanon has entered a entered a new chapter in its history and is now a member of energy-producing countries," Aoun said at the ceremony.
READ MORE HERE:   https://www.dailysabah.com/energy/2018/02/09/lebanon-signs-offshore-drilling-deal-with-3-oil-firms-despite-dispute-with-israel