DAILY SABAH WITH REUTERS
ISTANBUL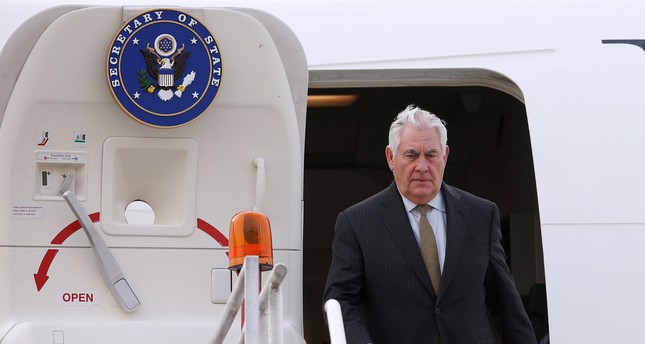 U.S. Secretary of State Rex Tillerson steps off his plane as he arrives to the presidential hangar in Mexico City, Mexico February 1, 2018. (Reuters Photo)
U.S. Secretary of State Rex Tillerson will raise difficult issues, including the Afrin operation, during a visit to Turkey next week, a senior U.S. official said on Friday amid escalation crisis between the two countries over the U.S.' support for the PKK terror group's Syrian offshoot the People's Protection Units (YPG).
Briefing reporters on Tillerson's Feb. 11-16 trip to Jordan, Turkey, Lebanon, Egypt and Kuwait, U.S. officials said there would be tough conversations at each stop, notably in Jordan, upset by the U.S. decision to recognize Jerusalem as the capital of Israel and by the U.S. limiting aid for Palestinians.
The dispute between the NATO allies over the YPG is expected to bring the already strained ties to a historic low if a diplomatic solution is not found.
"We are urging them to show restraint in their operations in Afrin and to show restraint further along the line across the border in northern Syria," a U.S. official told reporters in a conference call. "That's going to be a difficult conversation."
READ MORE HERE:   https://www.dailysabah.com/diplomacy/2018/02/09/difficult-talks-ahead-for-tillerson-and-turkish-officials-amid-afrin-operation