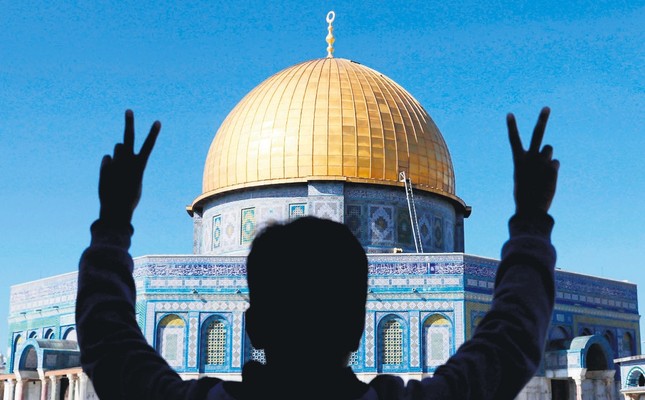 Jerusalem, holy for all three Abrahamic religions, is at the heart of the wide range of debates after U.S. President Trump's decision on Oct. 6 to recognize the city as Israel's capital.
A draft resolution on Jerusalem is expected to be voted on at an emergency session of the U.N. General Assembly today with the participation of FM Çavuşoğlu and Palestinian FM al-Maliki
The U.N.General Assembly is holding an emergency session today, requested by Turkey and Yemen on behalf of the Arab group of countries and the Organisation of Islamic Cooperation (OIC), to vote on a draft resolution rejecting U.S. President Donald Trump's decision to recognize Jerusalem as Israel's capital after the United States vetoed the measure at the U.N. Security Council (UNSC). Turkey and Yemen circulated a draft resolution on Tuesday that mirrors the vetoed measure, reaffirming that any decision on the status of Jerusalem has no legal effect and must be rescinded. Egypt had put forward the draft at the UNSC, which was backed by all 14 other members in the vote on Monday.
Like the Egyptian draft, the text before the assembly does not mention Trump's decision but expresses "deep regret at recent decisions concerning the status of Jerusalem." Foreign Minister Mevlüt Çavuşoğlu will participate in the planned General Assembly vote on Jerusalem today on behalf of Turkey. Palestinian Foreign Minister Riyad al-Maliki will be arriving in New York with Çavuşoğlu. Palestinian permanent observer to the U.N. Riyad Mansour said he expected overwhelming support for the measure, stating that Jerusalem is an issue "to be resolved through negotiations" between Israel and the Palestinians. "The General Assembly will say, without the fear of the veto, that the international community is refusing to accept the unilateral position of the United States," Mansour told reporters.
Not only Muslims but Christians are also "very disturbed" by the U.S. decision on Jerusalem, said Foreign Minister Çavuşoğlu said.
Speaking at a joint press conference with his Palestinian counterpart Riyad El-Maliki in Istanbul yesterday ahead of their trip to the U.S., Çavuşoğlu said they are expecting strong support at the voting session in the U.N. General Assembly tomorrow, since not only Muslims but Christians are also against Trump's move.
On Dec. 6, Trump announced his decision to recognize Jerusalem as Israel's capital and relocate the U.S. Embassy from Tel Aviv to the holy city. The decision has been strongly opposed by the international community, including U.S. allies, with the exception of Israel. The OIC convened on Dec. 13 in Istanbul in an emergency summit where it was declared that the top Islamic body recognizes east Jerusalem as the capital of Palestine, and called the White House's decision "null and void."
READ MORE:  https://www.dailysabah.com/diplomacy/2017/12/21/un-general-assembly-votes-on-draft-jerusalem-resolution-in-rare-emergency-session