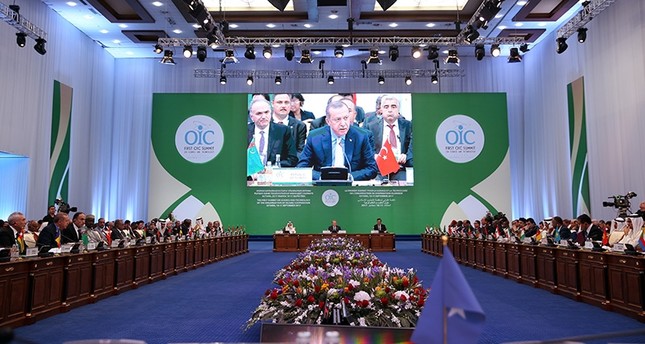 AA Photo
In his address before heads of states and representatives from predominantly Muslim countries, President Recep Tayyip Erdoğan urged Muslims around the world Sunday to unite against a number of regional crises and challenges.
Speaking at the Organization of Islamic Cooperation (OIC) Science and Technology Summit held in Kazakhstan's capital Astana, Erdoğan said that Muslim countries should work together to end the suffering of Rohingya Muslims in Myanmar.
Since Aug. 25, more than 300,000 people have fled to Bangladesh to escape violence and repression amid the army's brutal crackdown on insurgents in the northwestern Rakhine state. Hundreds are believed to have been killed and thousands more have been injured, as Rohingya villages and settlements have been burned to the ground.
"We want to work together with governments of Myanmar and Bangladesh to get ahead of the ongoing humanitarian drama in the region. We have transmitted Bangladeshi authorities our aid offer and expressed our expectation for the necessary facilitation to be shown to Muslims fleeing to their soil to save themselves from repression and murders," Erdoğan said.
The President added that international organizations, Muslim countries in particular, should struggle together with all means possible to end this cruelty.
Erdoğan also touched upon the ongoing spat between the Gulf countries and the tensions in Jerusalem. "What the Muslim world needs in this period is not drift, but unity and solidarity. The crisis in the Gulf region has upset us deeply. We want the crisis in the Gulf to be solved as soon as possible. We can never allow the violation of the holiness of Jerusalem and Ḥaram al-Sharif. We should perform a much more determinant attitude to prevent provocations," Erdoğan said.
He also emphasized that Muslim countries should allow its citizens to reach all benefits of the internet while protecting them from its dangers, particularly referring to its active use by terror organizations and anti-Islam groups.
SOURCE:   https://www.dailysabah.com/diplomacy/2017/09/10/erdogan-urges-muslims-to-unite-against-crises-challenges