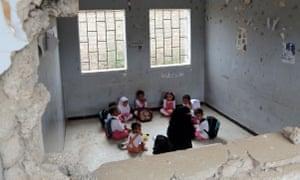 Charities have urged the UN to name and shame the Saudi-led coalition over child rights violations in Yemen after research showed more than 120 children were killed or maimed in airstrikes by the alliance last year.
A briefing by Save the Children and Watchlist on Children and Armed Conflict said the coalition committed "grave violations against children" in a series of 23 attacks in 2016. In each case, the alliance bombed hospitals or schools, or killed or injured children.
Campaigners want the UN to highlight the actions of the Saudi-led coalition in its annual report on child rights violations in conflict, expected to be released next month. The report will include a blacklist of states and groups that have committed violations such as killing or maiming children, recruiting children, abduction, sexual violence, or attacking schools or hospitals.
Last year, Saudi Arabia appeared on the list only to be removed a few days later, following furious protests from Riyadh. The UN report had stated the coalition was responsible for 60% of the child deaths and injuries in Yemen in 2015, an estimate Saudi Arabia claimed was "wildly exaggerated". The U-turn was criticised by human rights groups, which accused the UN of pandering to political pressure.
MORE:   https://www.theguardian.com/global-development/2017/jul/20/un-warned-not-to-whitewash-grave-violations-against-children-yemen-united-nations