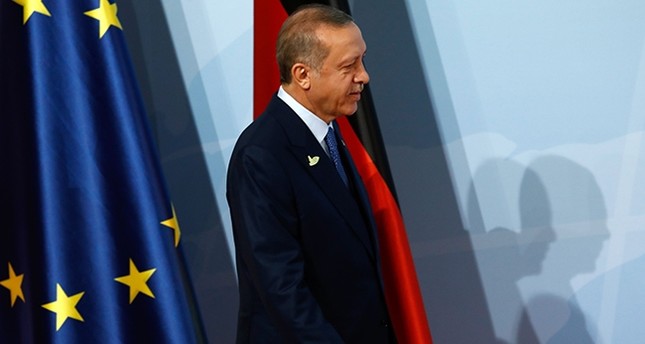 President Recep Tayyip Erdogan walks past the flags of the European Union (L) and Germany as he arrives for the G20 summit in Hamburg, Germany, July 7, 2017. (AFP Photo)
Turkey does not see the EU as indispensable, President Recep Tayyip Erdoğan said in an interview published Wednesday.
Speaking to BBC, Erdoğan said that Turkey would remain "loyal to its word" reiterating the country's wish to join the union.
"If the EU, bluntly says, 'We will not be able to accept Turkey into the EU' this will relax us. We will then initiate our plan B, and C. The European Union is not indispensable for us… We are comfortable," Erdoğan said.
The European Parliament adopted the annual report of Turkey rapporteur Kati Piri, suggesting the suspension of accession talks with Turkey Thursday. Ankara said the vote, which is not legally binding, is an attempt to sabotage the recent positivity surrounding talks between the bloc and Turkey.
Erdoğan recalled his first term as prime minister, saying that the EU praised Turkey for accomplishing a "silent revolution" during leaders' summits.
"But now the same EU not only doesn't invite us to the leaders' summits any more – they also waste our time. This is the situation right now," the president said.
According to Erdoğan, most Turks do not want to join the EU anymore, believing that the union treats Turkey "insincerely."
"Despite all this we will continue being sincere with the EU for a little more time. We will see what that brings for us," Erdoğan added.
Speaking about the ongoing crisis involving Qatar and four Arab nations, including Saudi Arabia, the UAE, Egypt and Bahrain, Erdoğan said that Turkey was not a part of the rift and that the country wanted to promote dialogue and peace in the Gulf region.
"We are in a hurry to find a solution here. Turkey is never in favor of Muslim killing Muslim in this region. We don't want to see Muslim fighting with Muslim. We are fed up with this," Erdoğan said.
more:   https://www.dailysabah.com/politics/2017/07/12/eu-is-wasting-turkeys-time-erdogan-say