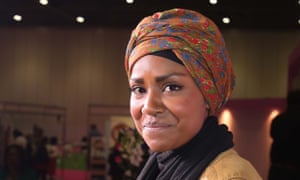 Nadiya Hussain has said she worried she was the "token Muslim" when she took part in The Great British Bake Off.
Hussain, who won the series in 2015, said she had given no thought to the role of her faith when she entered as a contestant and had been taken aback at how it came to define her.
She told the Radio Times she had "struggled at the beginning, because I thought, 'Am I the token Muslim?' I'd never, in all my years, been labelled like that. I heard it constantly, 'Oh, she's the Muslim, she's the Muslim'.
"I certainly didn't enter a baking show in the hope of representing anyone," she said. "Being a Muslim for me was incidental, but from the day the show was launched, I was 'the 30-year-old Muslim' and that became my identity."
"I was so shocked by the amount of negative comments I got," said Hussain, 32, a second-generation British Bangladeshi. She began wearing the hijab at 14, but said neither her mother nor her sisters were particularly religious, and none wore a headscarf when she was growing up.
more:   https://www.theguardian.com/tv-and-radio/2017/jul/11/nadiya-hussain-great-british-bake-off-i-worried-i-was-token-muslim