Source: The Guardian
By Saeed Kamali Dehghan Iran correspondent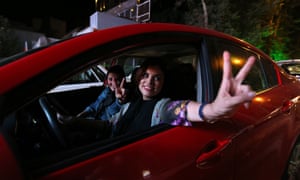 A growing number of women in Iran are refusing to wear a hijab while driving, sparking a nationwide debate about whether a car is a private space where they can dress more freely.
Obligatory wearing of the hijab has been an integral policy of the Islamic republic since the 1979 revolution but it is one the establishment has had a great deal of difficulty enforcing. Many Iranian women are already pushing the boundaries, and observers in Tehran say women who drive with their headscarves resting on their shoulders are becoming a familiar sight.
Clashes between women and Iran's morality police particularly increase in the summer when temperatures rise. But even though the police regularly stop these drivers, fining them or even temporarily seizing their vehicle, such acts of resistance have continued, infuriating hardliners over a long-standing policy they have had a great deal of difficulty enforcing.
Iran's moderate president, Hassan Rouhani, has argued that people's private space should be respected and opposes a crackdown on women who don't wear the hijab. He said explicitly that the police's job is not to administer Islam. Speaking in 2015, Rouhani said: "The police can't do something and say I'm doing this because God said so. That's not a police [officer]'s business."