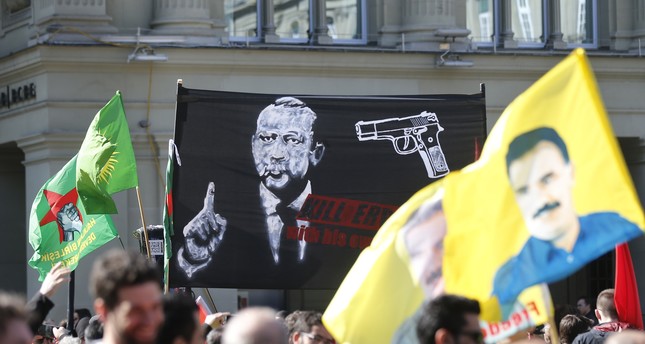 AP Photo
Authorities in Bern have opened a probe into a mass meeting of members and sympathizers of the PKK terrorist group in the Swiss capital where protesters held placards that read "Kill Erdoğan" under a photo of a handgun pointed at President Recep Tayyip Erdoğan's head.
According to a report by Swiss state news agency, the Bern-Mitteland public prosecutor's office opened an investigation into the "Kill Erdogan" banner as well as organizing a rally without official permission. The security chief of Bern, Reto Nause also confirmed the probe.
No detention has been carried out yet as part of the investigation.
Around 250 PKK supporters and some socialist party supporters including followers of the Green Party of Switzerland gathered Saturday in front of the Parliament building in Bern where a rally was held to promote the "No" vote for Turkey's upcoming referendum.
more:   https://www.dailysabah.com/diplomacy/2017/03/26/switzerland-opens-probe-into-kill-erdogan-poster-in-pro-pkk-rally-in-bern