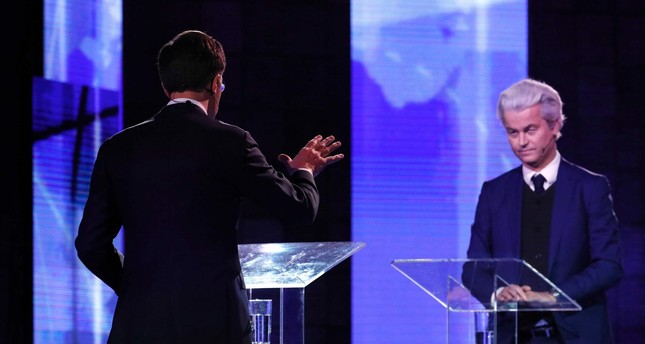 Dutch Prime Minister Mark Rutte (L) gestures while debating with the Netherlands' far-right politician Geert Wilders in Rotterdam on March 13, prior to the Dutch parliamentary elections held on March 15.
One racist fascist was more than enough in Dutch politics. Rutte lost plain and simple
The liberal-turned conservative Dutch Prime Minister Mark Rutte, of the People's Party for Freedom and Democracy (VVD), portrayed the Dutch elections as a neck-and-neck race with his radical right-wing challenger Geert Wilders. "In the Netherlands, we'll halt the march of Geert Wilders's populists," he said. But it was not a referendum, nor a presidential election; it was plainly and simply a parliamentary election. One racist fascist was more than enough in Dutch politics. And he lost plain and simple.His was not a good election strategy for Rutte. The more he positioned himself as the savior of the Dutch, the more he had to try to out-smart his rival. In trying to achieve this he revoked landing permission for the Turkish foreign minister's airplane and set his horses and dogs against innocent people who were exercising their democratic rights. He should not have deported a minister of Turkey, and detained the Turkish Consul General in Rotterdam. Even so, it did not work. Rutte lost 20 percent of his seats in the Dutch parliament. His major partner the Labor Party is no longer a candidate for the coalition.
Rutte put his party in this foolish caper; he recklessly violated international conventions and lost the Turkish people's respect. Turkish people have a quarter of a million of their sons and daughters in The Netherlands with a Dutch passport and voting card. Those sons and daughters will be much more prepared in the next elections.
MORE:   https://www.dailysabah.com/columns/hakki-ocal/2017/03/17/trying-to-out-smart-wilders-did-not-work