FRENCH PRESS AGENCY – AFP
BEIRUT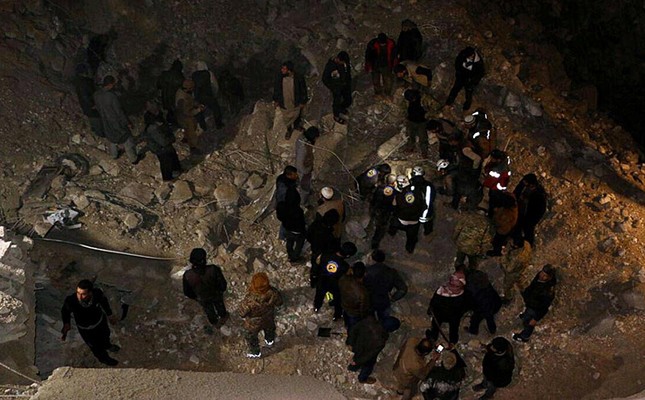 AA Photo
The US military says it carried out an air strike in northern Syria against an Al-Qaeda target, but denies deliberately targeting a mosque where at least 42 people were killed according to an independent monitor.
Turkey's official Anadolu Agency reported that the death toll in the airstrike climbed to 58, whereas Ihlas News Agency (IHA) put the death toll at 63.
The US-led coalition has been bombing terrorist groups in war-torn Syria for several years, with hundreds of civilians unintentionally killed in the country and in neighboring Iraq.
"We did not target a mosque, but the building that we did target — which was where the meeting took place — is about 50 feet (15 meters) from a mosque that is still standing," said Colonel John J. Thomas, spokesman for US Central Command.
According to a Centcom statement: "US forces conducted an airstrike on an Al-Qaeda in Syria meeting location March 16 in Idlib, Syria, killing several terrorists."
The Centcom spokesman later clarified that the precise location of the strike was unclear — but that it was the same one widely reported to have targeted the village mosque in Al-Jineh, in Aleppo province.
"We are going to look into any allegations of civilian casualties in relation to this strike," he added, when asked about reports from the Syrian Observatory for Human Rights that 42 people had died in the attack on the village mosque, most of them civilians.
The head of the Britain-based Observatory Rami Abdel Rahman said "the raids by unidentified warplanes targeted a mosque in Aleppo province during evening prayers, killing 42 people, most of them civilians".
more:   https://www.dailysabah.com/syrian-crisis/2017/03/16/58-dead-dozens-wounded-in-raids-on-aleppo-mosque