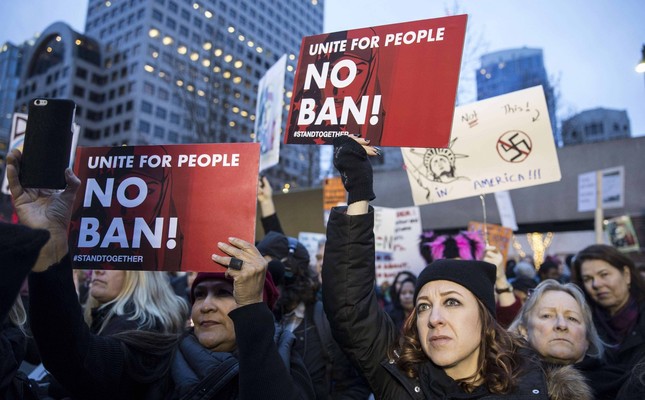 Protesters holding up signs in a demonstration against U.S. President Donald Trump's executive order banning Muslims from certain countries, Seattle, Jan. 29.
It is high time for a courageous political, social, and economic faith-based coalition between American Muslims and Jews (who are aware of the danger of Zionism) to be started in the U.S.
The complex and often contentious relationship between American Jews and Muslims witnessed two momentous events that produced divergent results and emotions. On the one hand, anti-Semitic attacks on a Jewish cemetery in St. Louis brought about a quick $120,000 online fundraising drive in the Muslim community and hundreds of volunteers to repair the damage and express solidarity. On a national level, Muslims mobilized to visit local synagogues and rightly express solidarity with Jews in a time of rising anti-Semitism and threats directed to their houses of worship and cemeteries.
On the other hand, we have an extremely divergent event – the campaign against the candidacy of Representative Keith Ellison for the Democratic National Committee chairmanship. The outcome of the election is that Ellison lost in favor of Perez, and the wounds of the campaign will not be easily healed. What happened in the lead-up to the vote and why did American Jews oppose and work hard to defeat Keith Ellison? At this juncture, it is important to ask if a Jewish-Muslim alliance against anti-Islam and anti-Semitism would succeed if the effort was directed on a superficial level while the structural empowerment of Muslims is sacrificed for Israel's interests in the United States.
NOT HOMOGENEOUS COMMUNITY
First of all, let me be clear that the American Jewish community is very diverse and no single monolithic characterization can be used to describe it. The line of demarcation in the community covers the full spectrum from far right to far left on all issues. …
more:   https://www.dailysabah.com/columns/hatem-bazian/2017/03/17/on-anti-semitism-anti-islam-and-fictitious-alliances-in-us