Exclusive: Pressure on UK and US roles in war set to increase as survey shows school buildings and hospitals among targets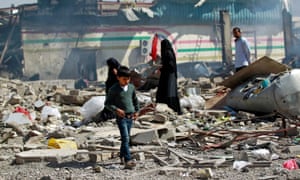 More than one-third of all Saudi-led air raids on Yemen have hit civilian sites, such as school buildings, hospitals, markets, mosques and economic infrastructure, according to the most comprehensive survey of the conflict.
The findings, revealed by the Guardian on Friday, contrast with claims by the Saudi government, backed by its US and British allies, that Riyadh is seeking to minimise civilian casualties.
The survey, conducted by the Yemen Data Project, a group of academics, human rights organisers and activists, will add to mounting pressure in the UK and the US on the Saudi-led coalition, which is facing accusations of breaching international humanitarian law.
It will refocus attention on UK arms sales to Saudi Arabia, worth more than £3.3bn since the air campaign began, and the role of British military personnel attached to the Saudi command and control centre, from which air operations are being mounted. Two British parliamentary committees have called for the suspension of such sales until a credible and independent inquiry has been conducted.
READ MORE HERE:   https://www.theguardian.com/world/2016/sep/16/third-of-saudi-airstrikes-on-yemen-have-hit-civilian-sites-data-shows