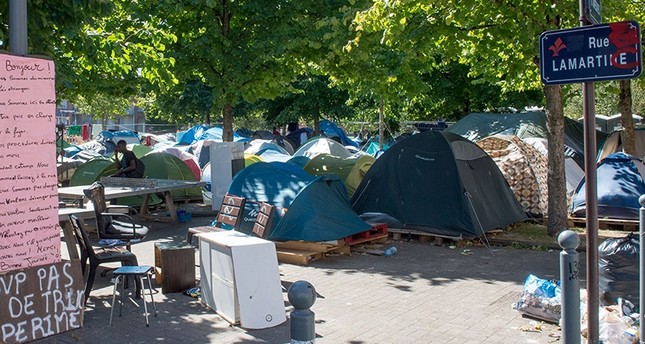 Tents of a migrant camp are pictured at the Parc des Olieux in Lille, northern France, on August 30, 2016 (AFP Photo)
France is set to open its first approved refugee camp in the capital by the end of September, Paris Mayor Anne Hidalgo announced Wednesday. Hidalgo said a second camp will follow.
"Two refugee camps will soon be open, one for men and another for women and children," Hidalgo told France Inter radio.
The Paris mayor first announced the camp in May and said it would be built in accordance with international UN standards.
Construction of the camp — which will provide shelter for more than 1,000 people — started at the end of June. The exact location of the camps has not been identified but Hidalgo said it will be in northeast Paris, an area known for its large immigrant population.
A second camp will be located in the south of the city.
Paris previously closed two unofficial camps set up by charities last year.
The French capital is considered a transit point for thousands of immigrants and refugees who try to reach Calais, from where they try to cross to the U.K.
SOURCE:   http://www.dailysabah.com/europe/2016/08/31/first-official-refugee-camp-to-open-in-paris-by-late-september