Source: The Guardian
By Richard Luscombe in Miami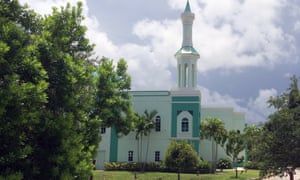 One of Florida's largest Muslim advocacy groups says it plans to take legal action over the elimination of a prominent Islamic community center as a voting site for the November election.
Susan Bucher, the head of Palm Beach County's elections department, caused outrage earlier this month by removing the Islamic Center of Boca Raton (ICBR) from the list of approved election sites after receiving calls from several dozen voters who said they would be "uncomfortable" voting there.
Her decision prompted allegations of bigotry and discrimination from mosque leaders and criticism from the city's US representative, Lois Frankel, who said religious freedom and the right to vote were "both fundamental to our democracy".
On Wednesday, after a personal visit by Bucher failed to appease center officials, the Council on American-Islamic Relations (CAIR) said the likely next step to try to get the decision reversed was filing a lawsuit.
"She visited the center for a face-to-face meeting with its leadership and general community, an opportunity to hint she was in the process of reevaluating, or assembling a team to at least explore the possibility, but she didn't do that," said civil rights attorney Wilfredo Amr Ruiz, who is also communications director for the Florida chapter of CAIR.
"That's why the legal process and our legal team are still very active, and why we're exploring all the avenues. We have been approached by other human rights organizations who are interested in joining the effort. The next step is most probably going to be a legal step."
There are about 80 Christian churches and five synagogues assigned as polling stations in Palm Beach county, according to an Associated Press review, but Ruiz said he was not aware of any other mosques that have been designated in the entire state.
Bucher's office did not respond to a request for comment, but in an emailed statement to the Palm Beach Post last week the elections supervisor claimed the decision to move the voting venue was not taken lightly.
"We began receiving complaints from voters. Some felt uncomfortable voting at the Islamic Center," the statement said.