Source: The Guardian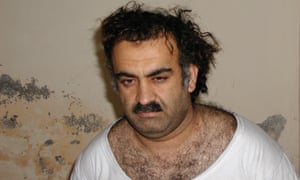 The judge overseeing the premiere military tribunal at Guantánamo Bay effectively conspired with the prosecution to destroy evidence relevant to defending the accused architect of the 9/11 attacks, according to a scathing court document.
Army Col James Pohl, who this week at Guantánamo is presiding over a resumption of pretrial hearings in the already troubled case, "in concert with the prosecution, manipulated secret proceedings and the use of secret orders", the document alleges, preventing Khalid Sheikh Mohammed's defense team from learning Pohl had permitted the Obama administration to destroy the evidence.
The accusation comes in a 10 May defense filing that the military commissions have recently unsealed. It contains significant detail about an episode that Mohammed's attorneys say has permanently tainted the most high-profile test of the US's post-9/11 turn toward military justice for terrorism cases.
"First they tell us they will not show us the evidence, but they will show our lawyers. Now, they don't even show the lawyers. Why don't they just kill us?" Mohammed, who faces execution, is quoted as saying in the filing.
Mohammed's attorneys argue that the secret maneuvering left them unable to challenge the destruction of evidence. They contend that the case ought to be scrapped entirely. Their brief quotes a famous 1932 supreme court case, Powell v Alabama, to argue that failing to provide the defense access to evidence "would be little short of judicial murder".
"Whatever legitimate national security interests might purportedly justify the near-Star Chamber proceedings that have riven this case, there can be no articulable excuse for so clearly misleading Mr. Mohammed's counsel and preventing them from seeking remedies to prevent the destruction of crucial evidence," they continued.
The filing does not specify what the destroyed evidence was. Classified annexes accompanying the filing remain withheld.
But on 19 December 2013, Pohl ordered the US to "ensure the preservation of any overseas detention facilities still within the control of the United States" – a reference to the secret "black site" prisons where the CIA and its allies tortured Mohammed and his co-defendants.