Octavian Cornelis– April 16, 2022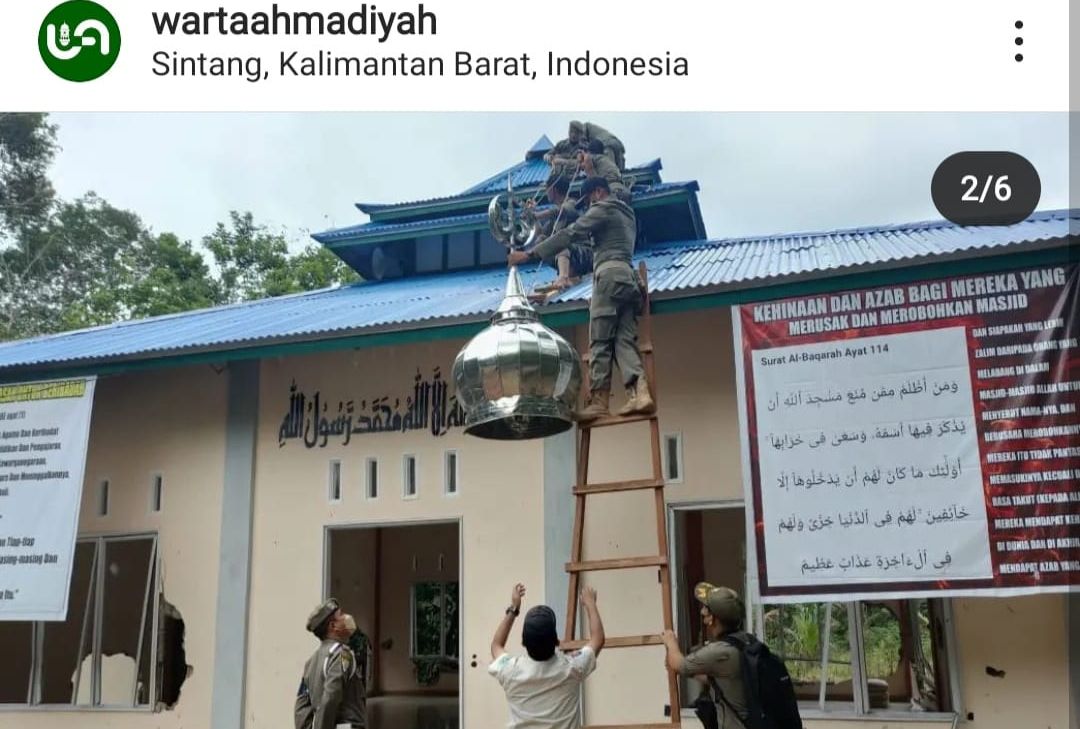 Satpol PP officers took down the dome which became a symbol of the building called the Ahmadiyya Jama'ah Mosque in Sintang District, January 29, 2022. /Special/Warta Ahmadiyah

KALBAR LATEST – Human Rights Watch ( HRW ) assesses that the Indonesian people of religious minorities continue to suffer due to the implementation of discriminatory regulations.
These include the blasphemy law (UU) of 1965, and the so-called regulation on religious harmony.
These laws and regulations have made it difficult for minorities in this predominantly Sunni Muslim country to build houses of worship, including non-Sunni minorities ( Ahmadiyya , Shia).
Read also: Ahmadiyah Mosque in Sintang not demolished, Regent: Changed its function into an ordinary house
Reporting from the 2022 World Report (for human rights violations that occurred throughout 2021), HRW also assessed that discrimination was also experienced by non-Muslim minorities , namely Christians, Hindus, Buddhists and Confucians, as well as followers of local religions , such as the Sunda Wiwitan.
Also related to the rights of women and children in Indonesia, according to HRW , a panel of three male judges at the Indonesian Supreme Court on May 3, 2021 ruled that children under 18 years of age do not have the right to choose clothes.
https://c98ab55620730d56d7512eb61d6049c2.safeframe.googlesyndication.com/safeframe/1-0-38/html/container.html
This MA RI decision is in response to a government regulation issued in February 2021.
Read also: Awaluddin, Commander in Chief of SPM Expresses Rejection of Ahmadiyah in Sintang and Calls on People to Stay Calm
This ruling allowed millions of girls and women in thousands of public schools to apply for basic freedoms.
This basic freedom is to choose whether or not to wear the hijab (a Muslim garment that covers the head, neck and chest) 'violates the four national laws'.
more… https://kalbarterkini.pikiran-rakyat.com/internasional/pr-1634268630/sorot-kasus-ahmadiyah-di-sintang-hrw-nilai-pemerintah-indonesia-diskriminasi-agama-agama-minoritas